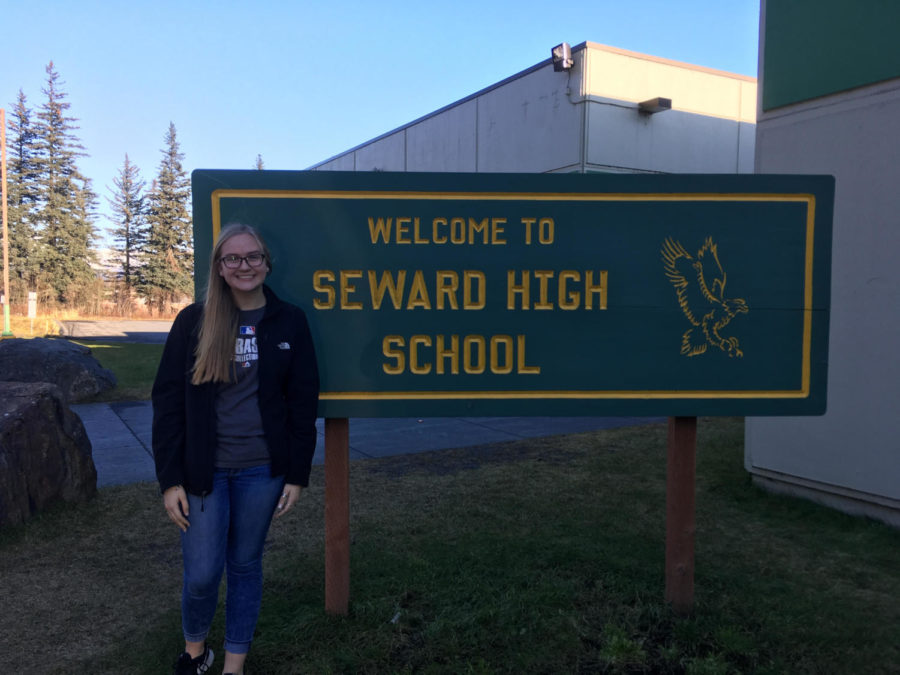 Sarah Martin, a new student from Texas, arrived this July in Seward to start a new life. Even though she was at first scared of school, once she got used to it, it didn't seem as intimidating.
She moved here accompanied by her parents and siblings because of her mother's new job as the middle school principal.
One thing that Sarah likes about SHS that she didn't have in Texas is the possibility of taking online classes that they offer. She has already taken two: Spanish and employability skills. She thinks that is better not to take Spanish class online. She said when I asked her about it, "The teacher talks so fast. I cannot even talk fast in my own language — imagine in Spanish." She also likes that in SHS kids are allowed to leave for lunch, and feels that students have more freedom with their phones, not like in her older Texas school.
She obviously misses Texas and everything there, so I asked her the following question: "If your parents say you can decide to stay in Seward or go back to Texas, would you say yes without thinking twice or would you have to think about it?"
"Yes!!" she responded so fast. "I would not think about it twice."
However, there are some aspects she appreciates about Seward that she can't do in Texas, like the environment, the mountains, the forests… those are completely different. At first, she found it a challenge to fit in, but then she got the confidence to feel comfortable.
I also asked her: Was there anything in Texas that you did not like? "Actually, yes. Every year, all the students have a test that includes English, Biology, Algebra, Chemistry and US History that is mandatory, and if you fail it, you have to go to summer school to retake the exam after summer ends; and if you fail it again, you must repeat that grade or retake those classes," she responded.  She was glad when she knew that they did not do it here.
In comparison, her new life here is going be a little bit different because in Texas her family had a kind of farm with animals, and every morning she woke up earlier to take care of them. Now, she can sleep an extra 45 minutes because she doesn't have to feed her pigs and cows anymore. Welcome to Seward, Sarah!