Senior Spotlight: Emmalee Moore
Hang on for a minute...we're trying to find some more stories you might like.
As Emmalee Moore's last year of high school is nearing the end, she has been considering her future with no lack of passion. Whether it be art, marine studies, running or other outdoor activities, she is always immersing herself into her interests in a beneficial and productive way. When at school, she can likely be found in the art classroom working on an extravagant drawing or throwing clay on the wheel. While drawing and sketching is her favorite media form, she dabbles in painting and ceramics, as well.
Moore began her art career at a very young age. "I enjoy it because there are definitely different ways to integrate art into everything," she says. Promoting that enjoyment, Moore is working on a dinosaur-themed colouring book. The project began approximately five months ago. She is assigned pictures of dinosaurs, which she then sketches, converting them to coloring book format. Moore does not plan on using art as her career focus because it is a difficult area to gain steady income. However, she will continue it as a hobby.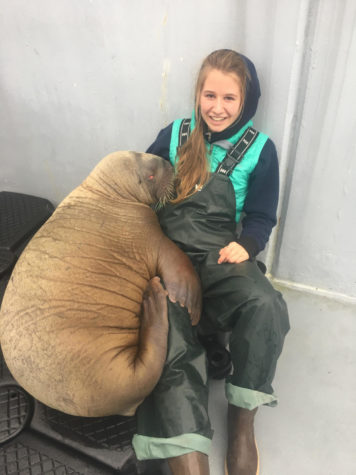 Moore is actively involved in her community, as she volunteers at the Alaska SeaLife Center regularly. "I've kinda always enjoyed the ocean and the life within it. Being near the SeaLife Center has kinda helped that interest grow," she says. Moore has a strong curiosity for the study of marine biology and hopes to propel that curiosity into a career. Growing up in Seward, Alaska, has provided her with the opportunity to pursue her interest.
Brigham Young University in Hawaii has accepted Moore for the following school year. According to her, a downfall to Moore's otherwise pure excitement is they do not have sports teams. To overcome this obstacle, she has decided to participate in intramural sports so she "can stay active and run because she enjoys it." She has been running since elementary school, and it does not seem to be something she is ready to abandon just yet.
After four years of cross-country, track, nordic skiing, community involvement and academic excellence, Emmalee Moore's work has paid off. She is someone to be applauded as an example of persistence and dedication. Undoubtedly, her future includes her passions…plus a vision of success.