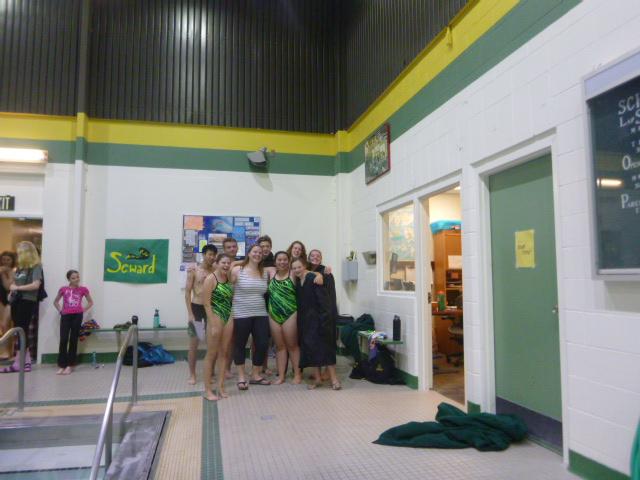 Trevor Guernsey
The Seward High School swim team has eight members: senior Hope Quinn; juniors Elena Hamner, Sarah Meinema, and Megan Koster; sophomores Megan Mullaly and Trapper Allen; freshmen Connor Spanos, Joshua Park, Lindy Guernsey, Madilyn Moore, and Kalista Rodriguez. The team's coach is Megan O'Leary.
For swim meets, there are usually multiple heats with up to six people per heat. Swimmers are placed in heats by their times: the slowest first and the fastest last. Each swimmer swims two events (for example, 100 yard backstroke and 200 yard freestyle); participating in a relay doesn't count for the two events.
For the swimmers' second meet, they traveled to Homer and had fun at the spit before spending Friday night, and got up the next morning to swim. Connor Spanos placed third in the 100 yard butterfly and fifth in the 50 yard freestyle.
Hope Quinn is the only senior on the Seward team. Hope remembers when she first started swimming — "I was like a baby." She has always wanted to be on a swim team and found the opportunity in Seward her junior year. Her favorite event is breaststroke. Her least favorite is butterfly. Hope likes the coach Megan O'Leary, and has the following to say about her: "She's so nice…very motivational. She makes everything really fun… [and] is a good teacher." Hope is definitely having fun with swimming. This is her last year, so she's making the most of it.
The Sohi Pentathlon was the fourth meet for the swimmers. The pentathlon is not a traditional meet. All participants swim a 50 yard backstroke, freestyle, breaststroke, and fly event. They also do a 100 meter IM (individual medley). An IM is an event where all four strokes are swum in the same race; for the 100 meter IM, the swimmers will swim 25 yard butterfly, backstroke, breaststroke, and freestyle in the same event.
Homer, Kenai, and Soldotna traveled to Seward for the only home meet on Saturday, October 1st. This was the day for senior recognition, and Hope was given a team photo inside a frame, signed by her teammates.  The home meet was a success for several swimmers, as they attained personal bests. 
Next, the team will be off to Bartlett, then Palmer respectively. This year, regions will be hosted in Kodiak.