Sieverts Signs With Valley City State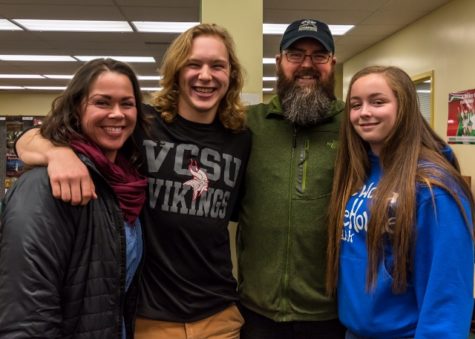 On Wednesday, March 1, our very own Rhett Sieverts signed a letter of intent to play football for Valley City State University in North Dakota.
Sieverts joins Seward High School alumni Josh Komarek and Coty Beck, who were also recruited by Valley City State and completed successful college football careers. One might query why a North Dakota school would have its eye on a small Alaskan community.  The explanation involves the late Roger Steinbrecher, who brought football to SHS in 1996 when he served as athletic director.  Steinbrecher had played for Valley City, thus becoming a connection between that school's football program and Seward.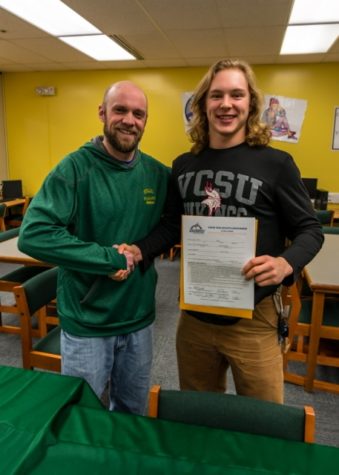 When reminiscing about his freshman year, Sieverts admits the first day of football practice came suddenly. He struggled to put on his pads and waited to listen to the foreign words of his coach. However, as he ran through his first set of drills, he felt complete. There was no way he could have known, that first practice, what was to come. He didn't know that football would become his greatest passion. There is no joy greater than being on the field with his team, running through plays, throwing the ball thirty, forty yards. Signing to a college team would mean spending the best years of his life on the field, throwing and catching the football, making touchdowns. To him, there is no other way to spend his college days.
When asked about what he is looking forward to most, Sieverts said that he is "looking forward to being pushed more as an athlete and to growing more as a person." This opportunity is like nothing else; Sieverts is certain he will learn more about the sport and himself as a player than he ever thought possible.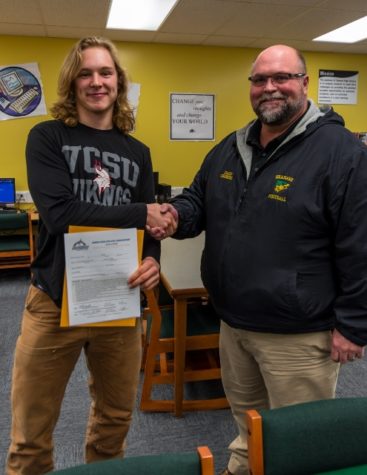 "A family-oriented team was also really nice to see. Everybody knows everybody and the size of the town and college reminded me of Seward," he added. Going to college won't be such a nerve-wracking step if you move to a town much like your own. New friends, new coach, better plays, tactics, throws, catches. But same atmosphere. And same mentality that propels you to be better than you were yesterday or last week.
Sieverts earned a combined athletic and academic scholarship to fund his college expenses — a grand payoff for all the hard work he put forth over the years.