RYLA 2017: Learning About Leadership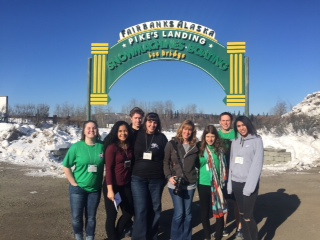 Every year in March, the Rotary Youth Leadership Awards (RYLA) is held to offer to sophomores and juniors an opportunity to learn about different types of leadership and how to be a leader in a community. This year, Megan Koster, Maggie Adkins and Ashley Guernsey — who worked as an alumni — traveled to Fairbanks for the event.
The first day, the students mingled and met other leaders like themselves. More than 60 students traveled from all over Alaska and Yukon, Canada. Starting the weekend, icebreaker activities helped students get to know each other. Throughout the weekend, there were many presentations about qualities of leaders and how to change the world. One of the first presentations was about water and how one change can make such a difference and save hundreds of lives. In another presentation given by Mr. Woodson, he talked about how a person can go from nothing to something. Lastly, Mr. Miller spoke about how to help and cope with suicide and depression.  
The students who represented the Seward Rotary Club thoroughly enjoyed RYLA and left as stronger leaders. Sophomore Maggie Adkins says, "I learned that everybody can be a leader through their strengths and weaknesses." For sophomores and juniors interested in RYLA, it will be held in Whitehorse, Canada next year. If any person is interested, students wanting to go should have passports.  They also should feel free to contact any of the students named above who attended this year.