Petrosius Breaks SHS High Jump Record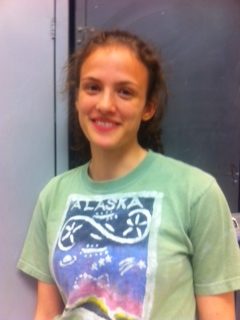 At the SHS home track meet on April 25, sophomore Coral Petrosius broke a thirty-year school record for the high jump. Just the Friday before, she had tied the school record at 4 feet 10 inches. This week, however, she finally broke it, jumping 5 feet into the air and becoming the best high jumper to go to Seward High.
Last year at the same meet, Petrosius jumped 4 feet 6 inches, and at the borough competition, she cleared 4 feet 8 inches.  At the time, her thought was "I'm going to beat it!" After breaking the record this year, she reflected that "a whole six inches higher is kind of a big deal."
During her freshman year, she focused quite a bit on discus and running events, but this year, she set her mind on high jump. She wants to improve her overall performance by working on components to a successful jump, such as arch, kick and speed.
When asked about a new goal, Petrosius said, "5 feet 4 inches." With the combination of her determination and skill, she can certainly achieve it.
With a current ranking of 2nd in Region 3A, she has a high chance of going to state since they are taking the top 16 from the region.