Lindquist Signs With Black Hills State
On November 13th, Ruby Lindquist, whose passion is to run, signed a letter of intent for Black Hills State University. Fifteen colleges from the lower forty-eight states pursued recruitment of Seward's talented runner, and South Dakota, like Ruby in the majority of her races, came in first.
Choosing a college is not easy, especially because it will influence your decisions for the rest of your life. Out of all the offers, Ruby narrowed it down to visiting four colleges.  Her top two picks were Eastern Oregon and Black Hills.  Although Ruby also liked Eastern Oregon University, it didn't fulfill all of her needs. It was important to her that her college would be a place where she would like to remain, even if something happened to end her collegiate running career. "It was just so beautiful," she raved about the scenery around her future college.  When it came down to the final decision, Ruby realized the following about Black Hills:  "I felt the same thing I feel here — the same team support and my love for the outdoors."
Now, that she has signed the running scholarship, which was more money than Black Hills University has ever awarded to a female runner, she is even more excited about going to college.
Congratulations Ruby Lindquist! We're  all cheering for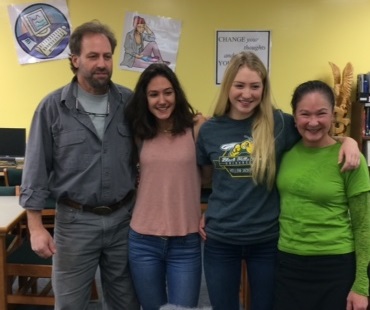 you.