Hydaburg Chronicles: Part 2
Hang on for a minute...we're trying to find some more stories you might like.
Seward's generosity quick dissolved before even reaching Hollis, while the now ex-soccer captains ate the pancakes.  A long and tiring day got even longer when after finally arriving in Hollis, the students drove past the turn to Hydaburg and went all the way to Craig for a delicious pizza dinner.  They met other instructors from Hawaii, Fairbanks, Hoonah, Neveda, and became acquainted with Sarah from France and Dylan from Hilo.  After a near miss with a Sitka Black Tail deer, the students completed the last leg of their journey and arrived in the dark of night in Hydaburg (10:30PM).
The next morning, what is normally a welcoming wet ritual, became an icy-cold shower as the lady Sea Hawks discover that hot water heater hadn't been turned on.  Now refreshed, the students helped facilitate an all-school Brush Bot activity, where each student was provided the parts to make a robot out of a battery, toothbrush head, and vibrating motors.  Students then went to their respective activities, which included underwater rover, the art of story telling, flight school (drones), and digital clock build.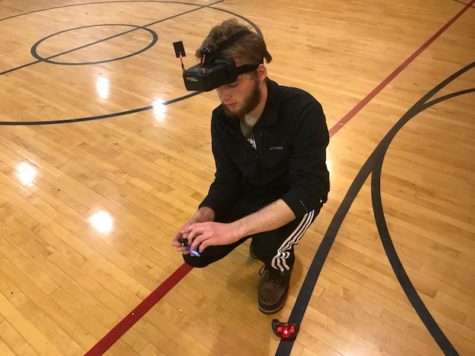 After the planned activities, students explored the local environment on foot and in some cases, on hands as Trapper climbed all over the tree swing and Chris took turns pushing Chris on the swing.  Crisis was narrowly averted when the branch cracked and Joel quickly got down.  The daily highlight from several students was the homemade lasagna dinner, which was not only fabulous, but also much appreciated.