Hood Signs with Hollins University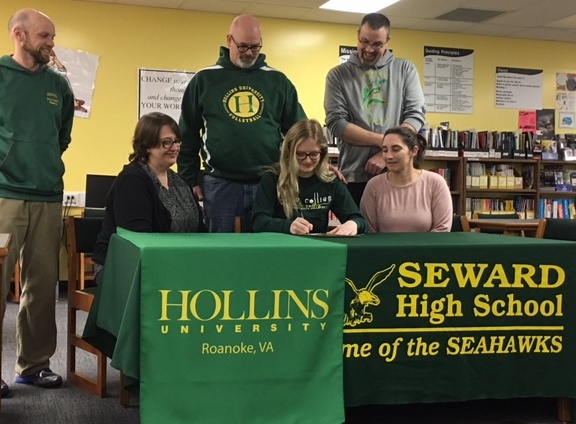 Hang on for a minute...we're trying to find some more stories you might like.
On Friday, February 2nd, Seward High School senior Jessi Hood signed her letter of intent to play volleyball with Hollins University, a liberal arts school in Roanoke, Virginia.
Hood received a "ton of random mail from colleges," and among the envelopes was a letter from Hollins University. Hollins had been so impressed with her excellence in academics, the letter said, that the school's admissions department invited her to apply, waiving the standard application fee. She had never heard of the school, but her interest was sparked.
Upon further research, she learned of the university's small population. At fewer than 1,000 students, Hollins is one of the smallest student bodies in Virginia. Impressed by this, Hood submitted her application and gave it little thought, until she heard back in November. Not only had she been accepted, but she was also eligible for a $25,000 academic scholarship, as the university does not give scholarships for athletics. This is when Hood started to think seriously about attending the small women's college.
When Hood's original college search began, she was not looking for a school at which to play volleyball.  
"It just happened," Hood said. Hollins' volleyball coach "emailed me and asked me for game film," she explained. "I sent it to her, and she said she'd like me to join."
Hood has been playing volleyball since the 7th grade and is very excited about her opportunity to continuing playing with a team.
"I always liked being on a team," Hood said.  "I was so sad when we found out we weren't going to state." At the end of this season, Hood was looking forward to travelling with the team and having fun playing for her high school once more. The Seward High varsity volleyball team placed third at the regions tournament; however, due to an unfortunate rule change this year, the team ranked third no longer participated in the state tournament.
Knowing that she will get to participate in many practices and games soon with new teammates and coaches is bittersweet. She will miss her high school team, however, will still be wearing green and gold — but this time, representing Hollins University.