What Love Looks Like
Hang on for a minute...we're trying to find some more stories you might like.
February 14th, known as Valentine's Day, is a date dedicated to love. Not only the love in relationships, but that within friendships and family as well. Seward High School's Sources of Strength — or SOS — program has expressed that by hand-making individual valentines for each and every one of the 178 students. The gifts were distributed during second period on Wednesday, each including a piece of candy.
Andrew Scrivo, the Sources of Strength coordinator for the Seward area, stated that the purpose of the project was to make sure each student received a handmade card and treat, as well as simply to provide a kind gesture. From Scrivo's perspective, "Sources of Strength is a group of diverse students and adults that want to positively impact our school and community by spreading messages about hope, help and strength. SOS is about making a positive change in the climate of our school and community."
Scrivo states that he has a passion for helping and supporting children, and that is his motivation to continue his part in the diverse group. He says, "I get the chance to be a support in the lives of kids in a really neat way." He believes that kids need the support that SOS provides in order to have a higher chance of succeeding in life. His words demonstrate his commitment, and students are lucky to have such a strongly encouraging and caring role model to lead them in their journey towards decreasing bullying and depression.
Steven Osborn, a junior here at Seward High, is involved in Sources of Strength. I was curious as to what motivated students to join the program, as well as how they believe it is beneficial. I asked Steven why he joined, of which he replied, "Because I got voted in and it positively influences the school, which I like." This shows that students like to support the purpose of the program because it has a good impact on the community and the school. Steven celebrated Valentine's Day by helping out Wyld Life, which was holding V-Day events for middle schoolers, to "run the games and lead the students."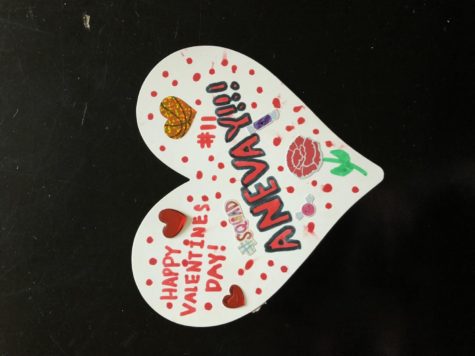 Upon receiving their cards, students were surprised. They thought it was very sweet and considerate. Laurel Correa said, "It must have taken them forever to make all of them. I got my favorite candy." Students were thinking about the work put into making the valentines, and were appreciative of their peers who took the time to create them. Laurel recited an inspirational quote on the back of her card, "When you value yourself, you will find someone who values you." The quotes present on each card were in recognition of National Teen Dating Violence Awareness month.
Overall, Valentine's Day 2018 blew a warm wind of neighborliness and generosity throughout Seward High School. Hopefully, this brightened many spirits and encouraged people to pass on the kindness. Sources of Strength set an example, showing students what real love looks like.