A Ski to Remember
What does it feel like to cross a finish line, leaving absolutely everything you have on the course? The SHS nordic skiers know what it's like, having finished their ski season in Fairbanks at the Alaska State Nordic Skiing Championships on February 23. Nineteen schools and more than 200 skiers took to the hilly trails of Birch Hill for three days of intense racing. Six skiers from Seward had the opportunity to race, including freshmen Cody Bryden and Sam Paperman, junior Sadie Lindquist, and seniors Emma Moore, Egor Sturdy, and Ruby Lindquist.
The final meet was a great way for seniors to finish off the season, and for newer skiers to experience what nordic skiing is like at the highest varsity level. Cody Bryden commented that state was a good opportunity to "see where [he] placed among the fastest in Alaska."
SHS skiers did well in both the skate and classic races. Boys had a 7.5k skate ski race and a 10k classic race. Girls, on the other hand, had a 5k skate ski race and a 7.5k classic. Sadie Lindquist finished 4th for 3A in skate skiing, and Ruby Lindquist captured 1st place for skate and classic.
Seniors Emma Moore and Egor Sturdy also turned in outstanding performances at their final ski meet. "State was pretty good," Moore said. "They were definitely some of the harder races I've done, but I was happy with my classic race because I feel like I put in the most effort I ever have in a classic race." Sturdy agreed the races were more difficult than some of the previous ones. "It was definitely challenging, and I pushed myself as hard as I could because I wanted to improve from last year, and I did," Sturdy said.
Sturdy has participated in nordic skiing for three years, and is sad that the season has come to an end. "I am definitely glad I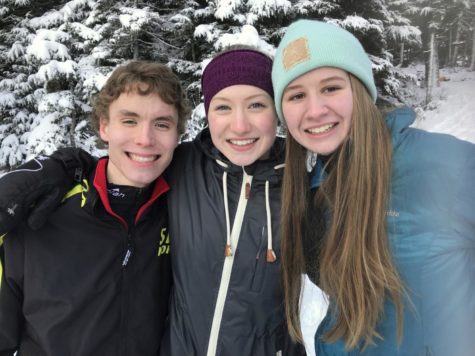 did this sport, and I think it opened my eyes to trying new things," Sturdy admitted. "We had a great team, and nordic skiing is one of those sports you can do for the rest of your life." 
Over the past three years, Emma Moore has gone from barely being able to stand on skis, to one of the top skiers on the team. "I definitely feel stronger now. I am more experienced and have a lot better form… my form was non-existent when I began," Moore joked.
With three seniors leaving, Sadie Lindquist will be the only veteran upperclassman from this year's team. "I think it's going to be weird next year because Emma, Egor, and Ruby have been there the entire three years that I've done skiing," Lindquist explained. "Coming from this year, we have a few skiers, but not really enough for a full team. So hopefully next year, we can get some more people to join."
Luke Rosier has been the coach for three years. "This year will not be my last year coaching skiing, but I won't be able to coach in Seward next year. I hope to continue coaching in the future," Rosier says. Looking back, Rosier is happy with his decision to coach; even though, it was a big commitment. "Coaching has made me more disciplined in my life, and it's forced me to organize my thoughts into processes and goals."
Although Rosier will be gone next year, he is determined to take steps to ensure that there is a starting platform for next year's ski team. "I hope the high school athletic department and I can find someone to keep the ski team thriving in Seward into next year, and beyond," Rosier says.
My name is Ruby Lindquist, and I have participated in SHS nordic skiing for the past four years. I still can't believe how fast it has gone by. Because I have a commitment to run for Black Hills State University, I don't have plans to ski collegiately. However, I will continue skiing recreationally for the rest of my life.
I would like to give a special thank you to the community, Coach Luke Rosier, parents, and all the volunteers that have supported the SHS ski team, and helped us grow stronger as a skiers, and as individuals. I am grateful to have had the opportunity to represent Seward in such an amazing, fun, supportive, and rewarding sport that is nordic skiing.