A Trip to the Sea Life Center
Hang on for a minute...we're trying to find some more stories you might like.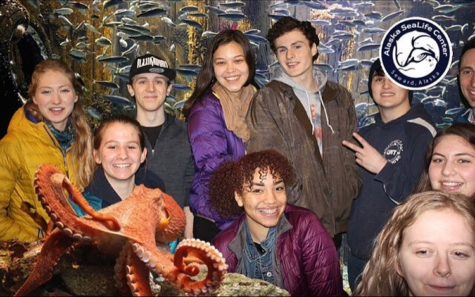 The Marine Biology class had the opportunity to visit the Sea Life Center last week (March 20). Students have been studying taxonomy (the branch of science concerned with classification, especially of organisms), and recently completed projects on the following vertebrate families: pyuridae (tunicates), chondrichthyes (sharks), osteichthyes (bony fishes), aves (birds), or mammalia (mammals). From these families, students were given a specific species to research and present to the class.
The field trip gave Marine Bio students the opportunity to meet with some of the husbandry staff, visit with a professional of their specific vertebrate family, and go behind the scenes of the Alaska Sea Life Center. Senior Shelby Schoening said that the trip was "really fun and very educational. I thought it was really cool to go behind the scenes and take a closer look at a place that's been here for so long."
One of the groups had the opportunity to meet with a mammal professional. They examined a seal for parasites, wounds, and such. They were not only able to get a close up look at the seal, they were allowed to touch it. "It felt really coarse, and it was warmer than I thought it would be," said Sergio Basalo.
Another group had a chance to meet with an aves (bird) professional, and toured behind the scenes of the one-of-a-kind seabird exhibit. Students learned how the Sea Life Center cares for these birds and fed them small fish. "They were so darn cute," said Kaylee Brockman.
Marine Biology teacher George Reising commented that he thought the Alaska Sea Life Center trip was a "chance to connect with scientists and see how these animals are cared for in the real world. I hope [students] saw what it takes to care for these animals in order to learn more about them, and maybe this experience will inspire them for future job and internship opportunities."