Senior Spotlight: Blaze Havnen
Seward High School senior, Blaze Havnen is well known for his incredible talent of art. Blaze started getting into art when he was six. Just as every child begins, it was doodles, sketches, and stick figures. During the progress of growing up, he became more fond of sketching and painting. Plus, his father and grandmother drew around him, and he decided to catch on. But along the way, "[he] stopped in between, but picked it up when [he] got into high school."
Blaze uses art as a 'getaway' from stress or emotions that are hard to comprehend, which is a very healthy way to deal with your problems. Blaze describes about how he feels when he draws: "I don't know. I guess my feelings are… blank. Everything in my life kind of shuts down." All of that worry or stress is getting released due to his concentration on the work at hand.
He does plan on attending ATH/TECH college for a year for the culinary classes. He became interested in cooking when he was 15 during his summer job as a dishwasher. He explains how he would watch the cooks become immersed in their jobs. He does plan on continuing his art but in a more "creative style." What he means by "creative style" is more sculpting and clay or just deeper into what he already knows. Fro example, right now, he has started using white pencils on colored paper. He will keep art in his life as a hobby and "use it as a way to sell paintings." He wants to possibly create a business for his art such as an opening or auctions dedicated to his art with a side of publishing.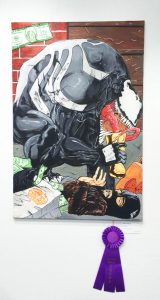 Recently, Blaze's painting was published in the KPBSD District Art Show, and he received the award of "Best In Show!" It was a new feeling to him because it was the first time his art was ever open to the public, but he was also very excited. He didn't have a single second thought, but he wasn't the one who was straightforward in putting his art into the competition.  The art teacher, Ms. Waggoner, was strongly influencing him to publish. He didn't expect to win, but he didn't have the thought of losing, either. His painting was a recreation from a comic that had the villain, Venom.
Blaze can become very sincere and committed to his art, but he is more focused on becoming more wrapped around culinary. Although, he admits, art will still be there with him throughout his life as a hobby or a pass-time. He really enjoys his art and how it turns out. He has taken big steps in becoming confident with showing his art, but now he wants to start a new type of art, which involves food. With his artistic and open mind, he can make anything into an art masterpiece.