Petrosius Signs with Chadron State
On Friday, April 13, 2018, Zen Petrosius signed a letter of intent to run for Chadron State College, while surrounded with the support of his friends and family, including his mom Cedar Bourgeois, seven-time Mount Marathon champion. He admits he did not find his true passion for running until sophomore year, and that's when he began to consider running in college. Not only will he run, but he also plans to major in physical science and specialize in geoscience.
Choosing a college can be quite challenging, but Petrosius said "it wasn't." "I actually visited there later this winter, and as soon as I went there, I instantly made friends, and the coach was awesome and everything about it was perfect," Petrosius added. "It has the major that I wanted and their cross country coach has interest in me, so it was the perfect fit." He heard about the school in Chadron, Nebraska, from his best friend, Hunter Kratz, who also attends, as well as another former Seahawk, Kjell Nilsson.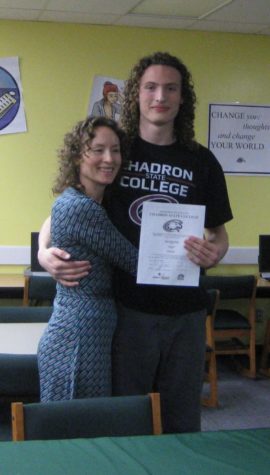 To prepare for college, Petrosius has applied for multiple scholarships, stays consistent in his training and is "getting everything figured out." His training includes running five miles most days, aiming for thirty miles per week. He plans to "amp it up little by little" to about seventy to eighty miles per week over the summer.
When asked if Chadron was offering him any financial assistance, he said, "Right now, athletically, they aren't offering me anything. …If I run a 4.38, then they'll offer to pay for half my room and board, which is actually a pretty good amount." Petrosius' current best time is 4:47. Therefore, during this track season, Petrosius is more determined than ever to achieve his best time, which now equals future financial support.