Internships: An Opportunity for School Credit
Hang on for a minute...we're trying to find some more stories you might like.
High school students need to balance school, friends, family, sports, and assignments. It can be easy to overlook some of the important opportunities that may come up, such as internships. While they may not be an interest to you at the time, they are very important for students moving into college, and their future.
There are three different types of internships that you can get credit for while in high school. The first, is on-the-job training (OJT). On-the-job training is a position where a student works for an organization or business, while being paid, in order to get work experience. The second is working as an aide. Student aides may work for teachers correcting homework, helping out with classes, and doing other tasks. The third is mentorships, which are a step up from an aide or an OJT. The guidance is provided by a mentor, usually an experienced person in a company or educational institution.
In high school, internships count as a Practical Arts credit. It is up to the student to find the internship, and then to contact Seward High School counselor Martha Fleming. If you are a student interested in an internship and are looking for ideas, talk to Martha about some opportunities available for next year.  
Participating in internships while in high school is a great opportunity to learn about different careers, and get work experience that you can include on your resume and college applications. If you have a internship displayed on your resume, it will give you an advantage over other candidates applying for the same position.
Countless opportunities for internships exist in Seward for high school students, and I interviewed several students who are already involved.
Junior Eldon Zinis works for Harbor 360 Hotel as a laborer: cleaning, helping move furniture, and doing other jobs. He agrees that internships are a good thing for high school students to get into. "You get on-the-job experience, it looks good on resumes, you're proactive, and you get to meet new people," Zinis says.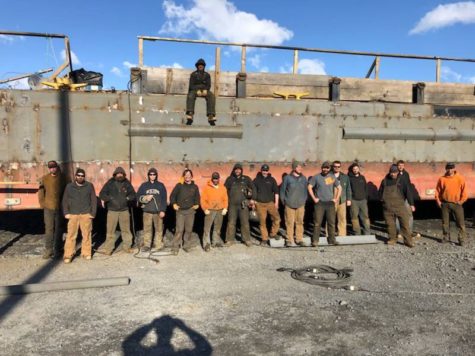 Senior Cameron Bunch does on-the-job training as a laborer at Catalyst Marine Engineering. He helps out the welders, sets up equipment, and occasionally fixes things. "If you're capable of doing schoolwork, and doing a job at the same time, I'd say go for it," Bunch says. "It keeps you busy, keeps you from being bored and from getting into trouble. I think it's a good thing for students in school to do."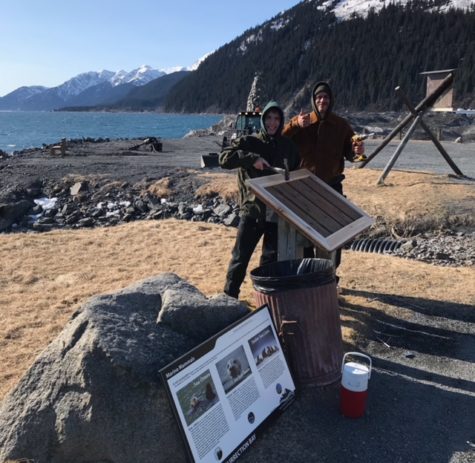 Senior Egor Sturdy works for the City of Seward. He is a park maintenance worker, helping out with different projects around town. He has recently been working at the campgrounds, getting them ready for the upcoming tourist season. "If you have a profession that you can get training to help you in the future, I think [internships] are definitely valuable, and students should take advantage of the opportunities that are available," Sturdy explains. "For me, I also see it as helping my community. I take pride in the work that I do because tourists and local people appreciate it."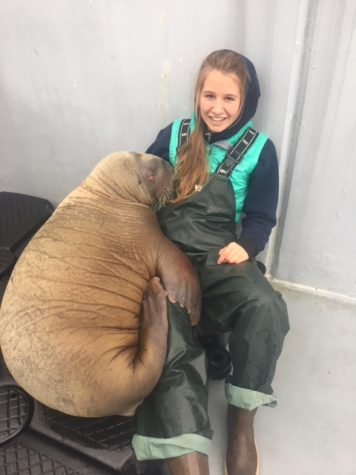 If you are looking for an internship and are interested in Marine Biology, the Alaska SeaLife Center is a great option. "Even if you're only a little bit interested in Marine Biology, there's a huge range of departments you can work in that all pertain to Marine Biology, and you can have really cool experiences that you wouldn't get to any other way," senior Emma Moore encourages.
Moore works at the Alaska SeaLife Center, where she has had a lot of cool opportunities. She was able to work with a variety of different animals, one time watching a baby walrus, as well as a beluga calf. She also had the opportunity to go on trips to different places around the state. Working at the SeaLife Center has allowed her to "have cool experiences while learning things that [she] can use in life."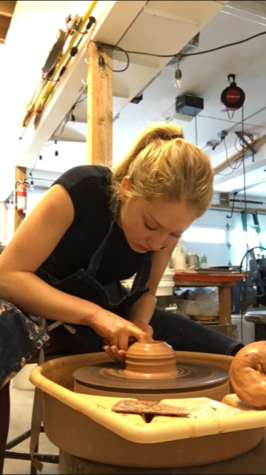 This past semester, I was an apprentice for Amy Hankins in a ceramics studio. I learned a variety of pottery techniques and did certain jobs. I not only learned the basic principles of working with clay, I learned the importance of patience, participation, cooperation with others, and practice. The great experience that I received from my internship has made me more knowledgeable about my interest, but even more than that, it introduced me to ideas for potential college and job opportunities.
If being involved in an internship has been at the back of your mind, consider inquiring about  it. They can help provide you with necessary skills that are important for future employment, and when the time comes to apply for your dream job, you will be prepped and ready!