Senior Spotlight: Kendyl Morris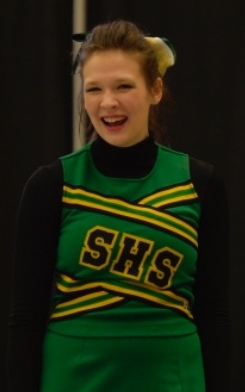 Hang on for a minute...we're trying to find some more stories you might like.
For Kendyl Morris, cheerleading has been an interest since as early as middle school, so it's no surprise that starting off early got her far in her sport. She joined SHS cheer freshman year when her mom became coach and made her way to team captain her senior year. As well as achieving this status in high school, she will go on to join UAA's cheer squad while attending college there and further her goals in the sport. Cheer has not only provided her with a passion and a path to follow through school, it has given her valuable lessons that she can use as she continues to succeed in life.
When asked about cheer, it's very evident that this is what Kendyl loves to do.
"I believe the feeling cheerleading gives you is just too unique to find anywhere else. Being in a sport that requires an extreme amount of commitment can be stressful at times, but the payback is the best feeling."
The same way Kendyl finds motivation to do the things she loves, they give her motivation in life. The strict, hard-working nature of cheer leaves little room for laziness. Performing to her best ability ensures that her teammates are safe in the stunts and encourages the team to work better together for the most self-rewarding result. Seeing the hard work pay off when she performs is well-worth the effort.
"To look back on pictures and videos of performances you've worked on for multiple months and be genuinely proud– it's honestly unforgettable. Most people won't see your daily three hours of stunting and perfecting routines that goes on backstage, so hearing the various "oohs" and "did she just do that" from the crowd is so rewarding."
This has taught Morris to be 100% dedicated to anything she does in life.
"I can take away from this to put my heart into the things I love rather than only participating partly."
This dedication pushed Kendyl to recently tryout for UAA's cheer team and make it. The process was incredibly strenuous and required focus, as she worked with UAA freshmen and three other high schoolers for four days to display their skills to coaches. Kendyl has noted that though college cheer is more strict than expected, she's looking forward to joining a group of girls who share the same love for what they do and pushing herself even farther to reach her goals.
"I am hoping cheering for UAA will help me improve my ability to step out of my comfort zone and perform complex stunts and routines with new faces. I am very excited to be participating with other cheerleaders who are as dedicated as I am to be doing this sport."