Turtles All The Way Down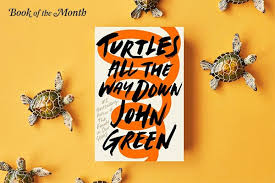 John Green is known as a master of young adult novels; his new book Turtles All The Way Down continues the streak of intriguing and captivating reads. It deals with many hard subjects such as anxiety, loss of parents, and obsessive-compulsive disorder. Due to Green's own struggles with OCD, he deals with the topic amazingly and honestly.
The main character (Aza) experiences common (and some uncommon) issues high schoolers go through, and because of that it is easy to identify with and enjoy her as a character. Aza and her best friend Daisy investigate the disappearance of billionaire Russell Pickett for a hundred thousand dollar reward. Along the way, she reunites with Davis Pickett, an old friend and the billionaire's son.  
While a little hard to get into originally, it is worth powering through the first few chapters. The payoff is worth it. The way mental health and illness is dealt with is unique and genuine.
This book should be on the top of everyone's read list; it is an emotional rollercoaster that is well worth the ride.