LifeMed Drops in at Seward High School
Hang on for a minute...we're trying to find some more stories you might like.
On October 17, 2018, the group from LifeMed came to Seward High School to reach out to students on career-related futures.  LifeMed is on the ground and in the air, and safely transports seriously ill or injured patients while providing life-saving medical care. In the presentation, they talked about their careers and daily tasks that happen in their profession. The group included Mark Beals, Will Day, and Deb Mosley.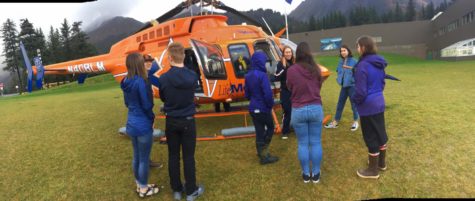 Mark Beals is an EMT that has gotten in some serious situations, but enjoys working with the team. The schedule can vary. The hours are either split through the month or happen all at once. For example, they could be working 12 hour shifts for one week straight once a month.
Beals explained, "So if you decide to do something like this… it requires time working in areas like ICU or in the emergency room."
Will Day is a paramedic that has traveled  "out of the box" in his profession. Day traveled for at least five-years, working in places such as Asia, Africa, and Antarctica.
"I got paid to travel all over the world…working all over which is something that people don't associate with paramedics…there are a lot of great opportunities out there."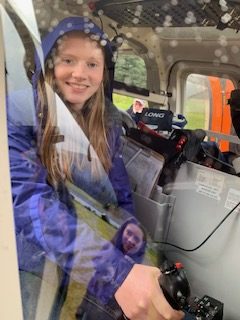 Deb Mosley, the pilot, briefly explained about flying for emergency flight transportation. She said that having major communication involving the crew causes greater chances of having the whole expedition work.
While they visited, Mosley explained the landing of the helicopter.  "Experience over time, and having  guidelines… it can be pretty risky though but the hardest part could be coming back out… with having concerns of weather conditions."
Students answered questions about the interactive part of the helicopter, the presentation, and talking to the professionals:
What was your favorite part of the life-med presentation?
"I like how they showed the helicopter, and explained what each thing was and how it helped their patients," said Linnea H.
"Being able to talk to people who had three separate jobs, and getting insight.  Also just to get to hear a wide variety of different stories, and find out where they came from,"  said Kyrsten J.
Did you Receive Any Advice from Any of the Profession during Life-Med's Presentation?
"Just go straight to training because they hire people that are much younger. So they get their training done faster and work for longer for amount of time, "  explained Kyrsten J.
LifeMed visited several KPBSD  high schools this fall.