Millionaires Hate Him…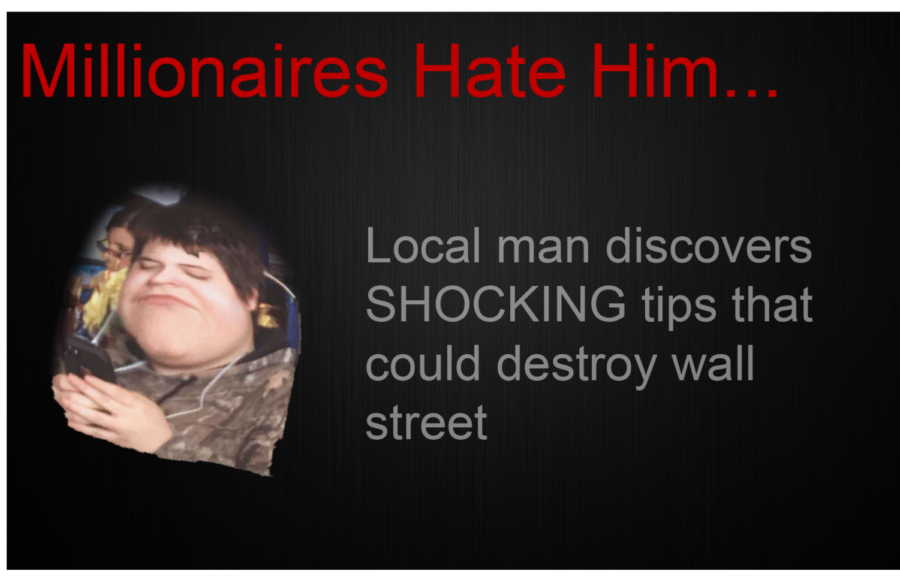 Seth Zimmerman is the pinnacle of greatness. When one attempts to define perfection, it is often easiest to point to Seth. Although people have tried to imitate this success, many have proved it impossible. This article digs deep into the complex workings of Seth's mind, and will provide you with his secrets to success.
Everyone should have goals. Goals often don't end up fulfilled because people choose unrealistic ones. Seth has only ever had one "to succeed;" he states this goal was achieved "when [he] was born." Setting a reasonable goal such as this will ensure you're not disappointed by failure.

Next, it is essential to have role models. Someone you can look up to for advice and motivation is key. Seth suggests choosing someone you relate to. His role model of choice is Gordon Ramsay, for a few reasons: "he is perfect like [himself]," and he is also "great at cooking and would be the perfect slave." Having a positive mentor can be the difference between failure and success.

Another tip is to not let your emotions cloud your judgment. It is very important to remain professional–no matter what. Seth recognizes this is harder for most people since he himself "never feels pain," is never "stressed," and "always satisfied." Keeping a level head like this will ensure you appear as a master of perfection.

It is chief that one puts only the most important things first. In Seth's case, this amounts to one shining principle: "money." If people can forget about little things, they can go strides. Seth's one focus is "to be happy," but of course, "money makes [him] happy; it is all about money." Only focusing on the essentials such as this will further your endeavors.

One extra tip that isn't entirely necessary, but that can prove helpful is choosing an anthem. An anthem is a theme song, of sorts. This is a song which one can play when feeling down or just in the need of a little pick-me-up. Seth's anthem of choice is

Fireflies

by Owl City

.

"It reminds me of myself in a way," he stated. Plus, an added bonus is it motivates him to achieve.

The last tip is to remain humble at any  level of success attained. Seth is a prime example of modesty. No matter the situation, he is always respectful and personable. He recognizes that it can be very hard to be humble when you're superior to all around you, and even though "many people think [he] is a god, [he] is not one."
Now that you have these super secret tips, you can attempt to reach the glory of Seth Zimmerman. You are equipped to crush the 1% and the cesspool of filth that is Hollywood.