Student Spotlight: Taylor Huett the Bassoon Player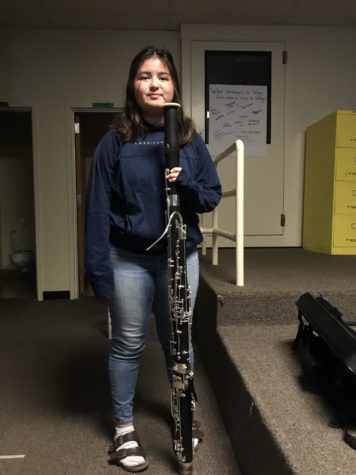 Our interview was arranged in quite an unorthodox fashion. One half-hammed question, makeshift set of arrangements, and quaint amount of preparation later, here I was accompanied with fellow interviewee Dylan Dunning standing vigil nearby the music room entrance anticipating the appearance of one Taylor Huett. It wouldn't be long until she would appear with her friend Paola. Presenting a slight grin, an energetic stride on her step, and a quite casual greeting, Taylor Huett's humble first impressions deceives her reason for meeting us. Taylor was given the honor of performing for the KPBSD Honors Band as a bassoon player. In our video interview, we offer a bit of insight on Taylor's thoughts of the Honors Band and her experiences there, as well as some of her experiences with music and how she wound up playing bassoon. For a future appearance, Taylor will be reprising her bassoon role for another Kenai concert in early May.
What made you interested in playing the bassoon?
Well, I started (playing) with clarinet and then I switched (to bassoon) because it sounded cool.
How did you come across KPBSD Honors Band?
I heard about it when I was in middle school because my teacher was always gone for it, but we had to audition for it and it was like a requirement.
How do the auditions work (for KPBSD Honors Band)?
There were three recordings (short segments) of music that we had to perform, and then those (the recordings) were sent in (presumably to a Borough Honors Band Contact via teacher).
What kind of pieces did the band play for the concert?
We played a lot of different things (pieces), like 'The Incredibles' theme.
Were you nervous about the concert?
I was nervous.
Did you have time to practice (for the concert pieces) beforehand?
Yeah, we (the band members) went to Homer for one day and it was just the entire honor band and we would practice with each other (for the pieces).
How big is the KPBSD  Honors Band?
There were about 40 kids playing in Honors band, and then for the whole Mass band there were about 80 (kids).
What were the pieces you had to perform for the audition?
They were just three little snippets of music, they weren't even (or couldn't be considered) a song.
Do you feel lucky on being in the band?
I do, but there were also only two bassoon (auditions) so it was kind of "I knew I was going to get in."