Greenhouse Growing Using Hydroponics
The environmental science class has been busy with many impactful projects. Due to the structure of the class, students are given alternative learning opportunities instead of traditional modules. Rachael O'Rourke and Angela Tinker are both creating hydroponic systems for the greenhouse.
Tinker is currently tinkering with a hydroponic tower, which is vertical, rather than Rachel's horizontal mechanism. This version of the eco-friendly system will greatly reduce the amount of "space," although, "it is very tall."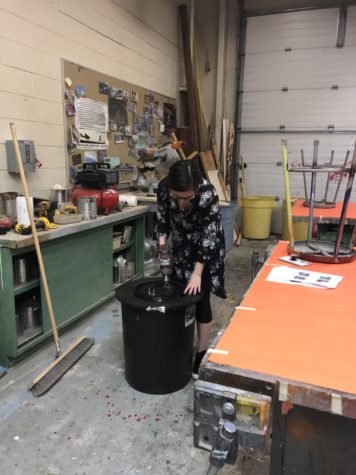 The purpose of the tower is to "grow plants without soil because soil is expensive," Tinker explains. So far, "it has taken almost $300." This amount is minuscule because it will "last a long time and will grow tons of plants." Many places do not have access to fresh, nutritious fruits and vegetables; Tinker has "six siblings and it is very hard to feed all of them." With the abundance of inexpensive food, it will be much easier to provide nourishment to large families.
O'Rourke has already built a horizontal system. "Angela's is a tower so it takes up less room, but it needs a stronger pump while mine is just gravity," she explained. Rachael's hydroponic unit is already being put to work in the greenhouse; it has "a bucket full of water and nutrients and a tube that feeds through the system." This project took her a couple weeks to complete due to having to find materials and drilling and sawing holes.
Every project done in Environmental Science has an impact on our community, but the hydroponic towers could feed thousands of people for a fraction of the cost.
The Seward High School Greenhouse has started its annual spring plant sale!  Every week the students sell fresh salads, produce, and plants to raise money for the greenhouse.
Please contact George Reising (224-9079 or gskrabareising@kpbsd.org) if you want more information or to submit an order.
Potted Plants – $10/each; 2 for $15; or 3 for $20
Basil – leafy and fragrant
Sweet Peppers
Flowering Marigolds (already!)