Get Matched or Get Lost (Plus the Spicy Results)
Seward High homecoming is approaching quickly. However, there are a lack of couples roaming the halls. Noticing the absence of love in the air, we decided to spice things up.
We created a thirty-question compatibility test, designed to pick apart every aspect of our experimental pool's needs and values in a relationship. This test was sent out to a group of twenty-four bachelors and bachelorettes, ranging from freshmen to seniors. (Link to test is included below.)
Actually, we were surprised when twenty-four students jumped at the opportunity, and  after the word spread, other bachelors and bachelorettes begged for a chance at love. Interestingly enough, the boys were more eager than the girls to take the quiz. 
As quiz responses began to trickle in, the results were jaw-dropping. All our judgments and biases concerning high school love were completely inaccurate. For example, we hypothesized many boys would be looking for a causal relationship. However, this was incorrect. 
Roughly 58% of boys were searching for a "long-term" relationship, while only 17% of girls could say the same. 
The girls were  specific in their requirements (and even more specific in their dealbreakers.) The majority of boys didn't specify an ideal appearance, most stated "it doesn't matter." We're not sure whether this is desperation or open-mindedness.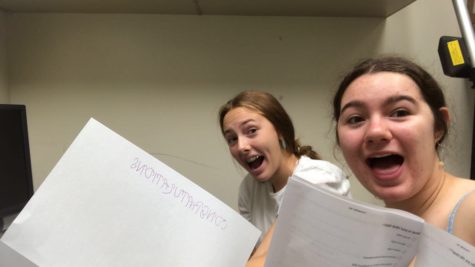 We were also quite surprised with our lighter questions; 100% of the subjects chose dogs over cats, and 41% of students' ideal date is a movie night. When given the option to describe themselves, 50% of subjects chose to say "funny."
After a week of meticulous deliberation, somehow we found a perfect match for every participant.  Each student was given a handcrafted envelope containing the eligible bachelor or bachelorette he/she had been matched with, including a quick explanation detailing their compatibility.
 Upon delivering these, the recipients' reactions varied from disappointment, to joy, to the most bashful of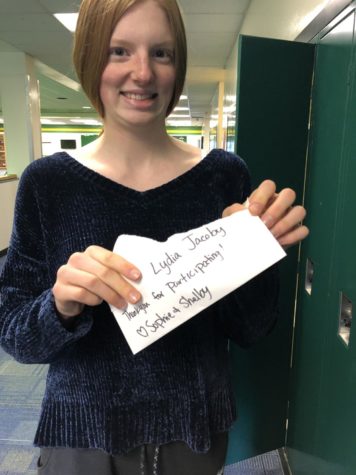 smirks. Despite this once in a lifetime opportunity, some egotistical students didn't think they got the match they deserved. Some even accused us of unprofessional actions; one's exact words being "you guys sabotaged me." 
Others were excited about the prospect of a new relationship. When asked about the results, sophomore, Emily Unrien stated, "It's really shocking to see because you go to school with people for all these years, and you would have no idea you're compatible if not for this test." Sophomore, Luke Gunter stated he had a lot of fun "thinking about who you would be matched with, but it was also kind of intense pulling the name out of the envelope, sorta like a game show." 
Throughout this social experiment, we learned a lot about people. Some people will never be satisfied with a perfect match, while others will be more open to give something different a chance. 
For those who were not able to take the quiz… fear not. Just because someone doesn't seem like you're type, you have no idea how compatible you could be! 
We would love to see new couples roaming the halls, and boogieing it up on the homecoming dance floor.
XOXO, Your Local Matchmakers 
Couples We Matched Together (PSA: pls don't bully the couples we matched together):
Rowan and Justin
Wren and Kekoa
Luke and Renee
Selma and Derek
Hunter and Natalia
Lydia and Steven
Bjorn and Sophia
Madi and Josh
Marcus and Emily
Ozzy and Hannah
Aiden and Ayla
Fayzon and Linda
Link to the quiz: https://forms.gle/gustzwwFviYPBozx5