Seward Swimmers Finish Strong
The 2019 swim season has come to an end with five swimmers returning from their victories at state. Seniors Connor Spanos, Hunter Hollingsworth, and John Moriarty were among the state qualifiers this season. Freshman Paxton Hill joined them for the boys 200 yard freestyle relay. Sophomore Lydia Jacoby also attended state this year, defending her title as 100 yard breaststroke state champion and breaking her own state record.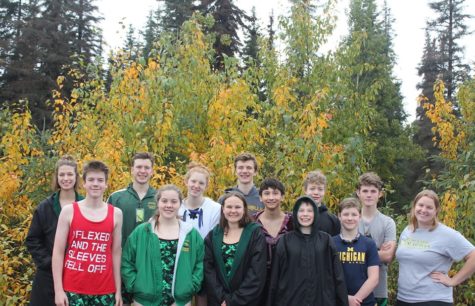 The season began with twelve Seward Seahawk swimmers, including seniors Madilyn Moore, Connor Spanos, Hunter Hollingsworth, and John Moriarty, junior Kylie Mullaly, sophomores Lydia Jacoby, Wren Dougherty, Peter Spanos, and Gavin Foote, and freshmen Paxton Hill, Jackson Bird, and Hunter Fry. With many of the swimmers approaching ten years of participating in the sport, it is no surprise how successful they were this year. 
Perhaps one of the most impressive feats this fall was the incredible swim by the boy's relay team at regions. With a time of 3:31.5, Spanos, Hollingsworth, Moriarty, and Hill broke the team record in the 400 freestyle relay by over three seconds. The previous record was set in 2010, which Moriarty found interesting since he looked up to the members of the 2010 relay team and then got to break their record.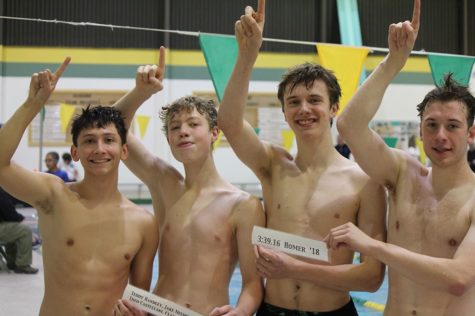 The boys continued their success by qualifying to compete at state the November in the 200 freestyle relay. This was the first time in nine years a Seward relay team made it to state. After swimming a time of 1:32.85, the boys finished in sixth place. 
For Moriarty, this was one of the best moments of the season, as he managed to swim a 23.55 for his portion of the relay. He described state as a "really excellent experience." While he proved himself to be a strong swimmer throughout his high school career, Moriarty wants to focus on other aspects of his future. 
Hollingsworth also qualified for his individual events in the 100 yard freestyle and 50 yard freestyle. Initially, Hollingsworth was seated 16th in the 50, but after a strong swim in prelims, finished in 10th place with a time of 22.9. In the 100, he finished in 8th place with an impressive swim of 50.8. Despite his success, Hollingsworth does not intend to swim in college. When asked why, he simply responded, "I have asthma."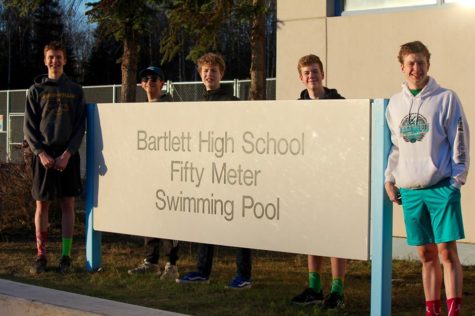 For the third time in his high school career, Spanos traveled to state. This year, he competed in the 50 yard freestyle and 100 yard butterfly. Spanos recalled the first time he qualified as a sophomore and being "super excited [he] got to swim that race." During this season, Spanos broke the decade-old team record in the 100 yard butterfly with a time of 53.14, landing him 3rd place at state. While this is incredibly impressive, he considered his 50 freestyle, where he placed 4th with a time of 21.98, one of his biggest achievements. Spanos plans to swim in college. He is going to "miss representing Seward High School" and wants to remind future Seahawk swimmers to "enjoy your time while you can. This is super cliche, but it does go by faster than you think."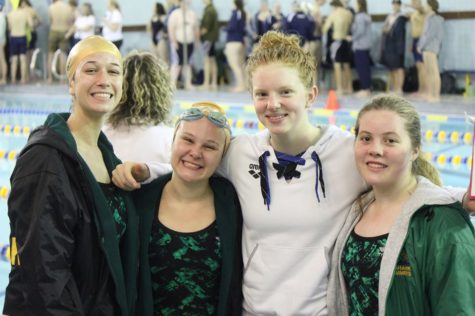 Madi Moore also expressed how much she would miss her time as a swimmer, specifically in regards the friendships she formed with their teammates. One of her favorite moments was when her relay team (Moore, Jacoby, Dougherty, and Mullaly) finaled at regions as it was "the first time [she] ever got to swim in finals." Jacoby agreed with her, saying it was fun and relaxed as their friends from Kodiak, Homer, and across the region were standing behind the blocks with them. Moore also got best times in her 100 yard breaststroke and 100 yard freestyle at the meet.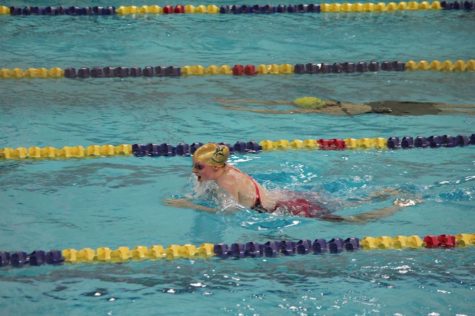 Jacoby returned to state this year, claiming third in the 200 IM with a time of 2:09.83. Jacoby also swam the 100 yard breaststroke, which she won with a time of 1:00.61, breaking her own state record by 2.44 seconds. By maintaining a schedule which includes extra swim practice and weight training, Jacoby hopes to be successful when she heads to Olympic Trials in
 Omaha, Nebraska this June. It is "possible [she] could qualify for the Olympics, but [her] goal is to make one of the international junior teams."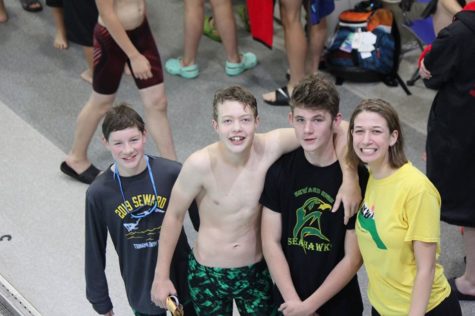 After their success at state, it will be exciting to see what the team accomplishes next year. Paxton Hill encourages others to join the team, as "it is a great opportunity as well as a great way to keep in shape and meet new people."