FFA Makes a Splash in a Sea of Blue Corduroy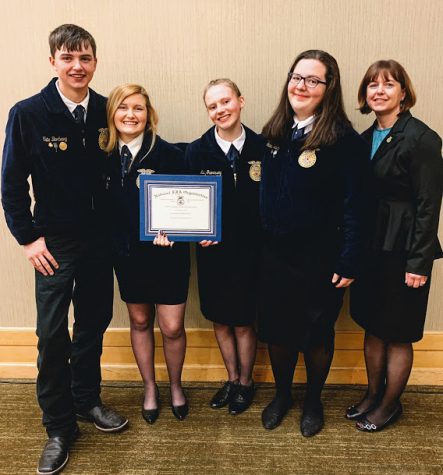 From October 29th to November 2nd, Seward's chapter of the Future Farmers Of America (FFA) traveled to Indiana to compete at the National FFA Convention. Although Seward's Iron Mountain chapter brought only four competitors, President Tate Barhaug, Vice President Lincoln Farris, Secretary Lindy Guernsey, and Treasurer Akilena Veach, they managed to make quite an impact at the competition.
It is only Iron Mountain's second year at Seward High School, and yet they have already become an accomplished team. In their first year, they won State in the topic of Environmental and Natural Resources, solidifying themselves a spot in Nationals. Additionally, FFA has been extremely active in the community as well as across the state. Vice President Lincoln Farris recalls many of the activities they have done and plan to do, including volunteer work at Mountain Haven, presentations for local establishments, building fox houses for the Alaska Wildlife Conservation Center, and helping others in need. "I hope we can show that there are kids out there volunteering and helping," says Veach, "even if it is in small ways."
In order to reach Nationals, Iron Mountain was challenged to raise enough money to get to Indiana where the competition is held. Thus, the chapter
 could be found doing all sorts of tasks this past summer and fall, from cleaning out Mr. Hemstock's shed to giving formal presentations for different organizations.
After arriving in Indiana, the team competed in Environmental and Natural Resources, where they are challenged to complete different tasks such as GPS tracking, testing water and soil quality, waste management, a written test, and a speech. Pitted against the top teams in the nation, the pressure was on for our small, Seward chapter. For the speech portion of the competition they competed as a team, but for all other categories performed individually. These scores from the individual events were then added together to discern both an overall team score and an overall individual score.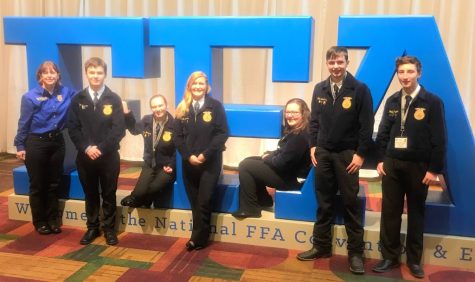 Out of approximately 200 contestants, Veach and Farris finished in the bronze category, Guernsey finished in the silver category, and Barhaug stood out by finishing in gold with an overall place of 15th. After all these scores were added together, the Iron Mountain team placed 15th out of 45 teams, landing them in the silver medal category. Barhaug was pleased since his only requirements for himself and his team was to not place 11th or last. Obviously, no one wants to be in last place, but Barhaug particularly did not want to end up in 11th because it is so agonizingly close to being in the top ten that he would have considered it a loss. So, Barhaug was very happy that he and the team finished in 15th, an impressive placing for such a new team. 
At nationals, there were approximately 70,000 people, the majority of which were competitors. Out of this impressive crowd, only about 50 were Alaskans. Thus, when contestants were challenged to get a signature from a member of each state, Iron Mountain was practically chased around the venue. This gave them the opportunity to interact with thousands of people, including leaders, alumni, and peers. 
Iron Mountain plans to return to district, state, and national competitions in the future and continue their winning streak. With the work they do in and out of competitions, FFA is certainly a valuable asset to the community of Seward and hopefully we will see more of them in the future. Guernsey is certainly thankful for the opportunities FFA provides as it is "a place where we can be on a team no matter what our interests are, helping ourselves and our community."