SHS Wrestling 2019
To start the wrestling season out in Valdez, Dylan Marcus took 1st. Kekoa Albino took 2nd on the Valdez trip, and Marcus Lastimosa in 3rd. Unfortunately, Steven Harshman had a shoulder injury during the Glennallen tournament right after the Valdez meet. These wrestlers were outstanding! Not only was the wrestling outstanding, Jacob's haircut that was done on that trip was too.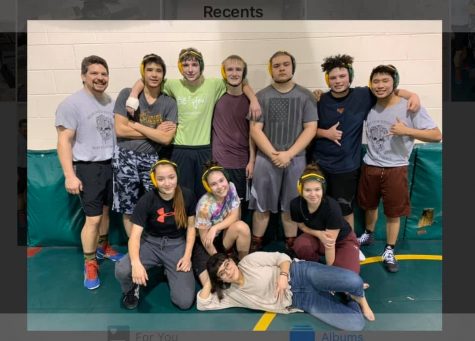 At our home King of the Mountain tournament, Marcus got a pin in 13 seconds and later came in 2nd place, while Dylan Marcus and Priscilla Stoltz got first. Priscilla's thoughts on the tourney was, "It was pretty good, I liked it a lot, I think I did better than I expected to."  Another female wrestler in her first year, Taylor Arrowood commented "I got my first win at the home tournament, so that was pretty cool. I loved cheering on my teammates."
The wrestlers took a flight out to Barrow Alaska, the Northernmost town in America. The Barrow dance was a lot of fun, even though they did not have a DJ, Jacob enjoyed the music that was playing and said, "The school was amazing, I love the layout." The school had a lot of comfy couches to lounge around on and an open kitchen all night for any midnight snacks. Lucas Brockman described Barrow as "cold, dark and windy" I'm pretty sure he speaks for everyone who has been that far up North. As cold and dark as it was, Angela says Barrow was the most fun. 
Near the end of the season our part of our team flew with the Houston team to compete in Cordova. We walked around town and enjoyed some hot chocolate during their Christmas parade. Cordova supplied all 3 of us that went to the tournament, Taylor, Lucas, and myself with 3 meals a day and hosted their first tournament in 6 years.
After the meet I interviewed 2 seniors, Priscilla Stoltz and Jaden VanDyke.
When I asked Priscilla about her thoughts on the season, she responded with "I feel like I've really improved since last year, and it makes me more excited to wrestle." She's happy with improvement and wished she joined sooner. She is sad because it felt like a shorter season than the last one.
I asked Jaden if he had anything to say about his season, he stated "I'm happy with the season and I'm glad there were more people than last year. I'm happy with how everyone did. Everyone did pretty good individually. My favorite trip was state."
The ASAA State Championship was hosted at the Alaska Airlines Center, it started on 12/20/19 and ended 12/21/19. Marcus Lastimosa, Priscilla Stoltz, Kekoa Albino, and Taylor Arrowood myself all made it through regions to compete at State. Lucas and Jaden came along to help support their team. Our wrestling team shared a hotel with our basketball team, we all had the same hallway. Some basketball players were kind enough to give me some free candy I shared with the rest of the boys back in our rooms.
Priscilla, Marcus, Kekoa are the contenders on the second day, Kekoa lost both his matches but Priscilla and Marcus wrestled for a few more matches before getting taken out of the tournament. Marcus placed 6th at state and got to take home a medal after stepping onto the podium for pictures.
At our end of the season dinner, Lucas got the "Bad to the Bone" reward that's for someone that you'd want with you when your back is against the wall and there's no other way out than to stand your ground. The reward is made of an actual moose bone that is painted black and gold. Priscilla worked hard to make Hemstock's retirement card that had previous team's pictures on the front and a note from everyone on the team inside.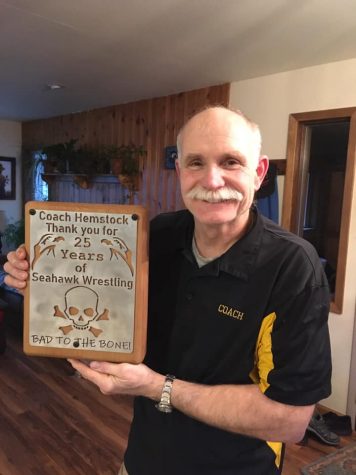 This 2019 season was Coach Hemstock's final year coaching high school wrestling. Hemstock announcing his retirement made front page sports news in the school district. I asked Hemstock about what he thought about coaching the Seahawks for so many years and he told me "It was bitter sweet. I enjoy what I do for a living, but I think its time for somebody else to step in. It was very rewarding. I've gotten far more enjoyment and satisfaction seeing others reach their goals than I had achieving mine. It was much more rewarding than mine. I will miss it and enjoyed it a great deal." He has been a great coach for many wrestlers throughout the years.