Wait…Priscilla is Signing Where?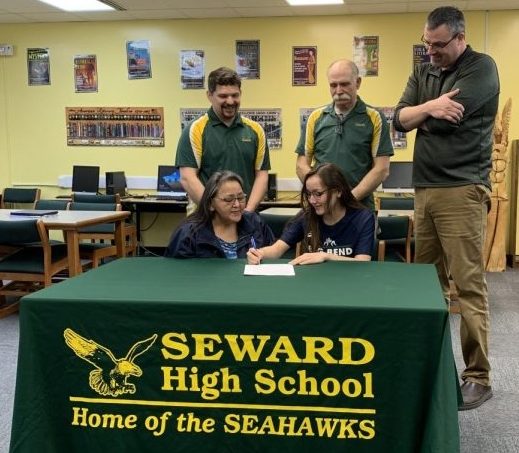 Thursday, February 13th, Priscilla Stoltz, surrounded by her coaches, friends, and family, signed her letter of intent to wrestle at Big Bend Community College in Moses Lake, Washington. The senior is being offered in-state tuition plus a 25% tuition waiver.
Besides being the first Seward High athlete to commit to collegiate athletics in the 2019-2020 school year, Stolz is the second wrestler to come out of Seward on scholarship in the last 27 years, and the first female wrestler ever. Stoltz is also one of less than 10 girls in the state of Alaska being offered a wrestling scholarship.
Her wrestling career began during her junior year.  Before the season commenced, Stolz was socializing with several friends. After some joking and taunting by the group, she retorted, "What if I did wrestling and kick your guys' butts?"  Turns out, what started as a friendly competition has blossomed into a promising opportunity.
Despite Stoltz's late start to the sport, her hard work and ability to "put her nose down to the grindstone" and "learn and absorb as much knowledge and skill as she can," as wrestling coach Andrew Scrivo stated, have made up for lack of time. After being first runner-up at Regions her junior year, Stoltz ended Regions as the number one seed, qualifying her for State where she was spotted by Big Bend coach Bryan Seibal. 
Participation in the historically male sport is growing rapidly among female athletes. Originally, if girls wished to participate, they would only be able to wrestle males; however, in the last five years, a separate bracket for State and Regions has been established, allowing girls to compete in a more fair environment. Because of the growing numbers, girls have more opportunities to wrestle each other at regular season meets, as well.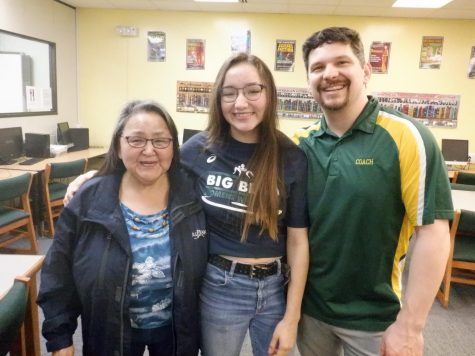 Because of these opportunities, a student like Stoltz is now able to wrestle at an out-of-state college. Big Bend has a total undergraduate enrollment of 1,600 students and offers a wide range of associate degree programs. Even though she will be traveling far away from home, her new team made her feel so welcomed when she visited in January that she is excited about the new experience.