Lost Seasons
Included in this article is a tribute to the seniors at Seward High School who were unable to take part in the final sports season of their high school careers.
Naomi Ifflander
Being a high school student in Seward, Alaska, the winter season can be tough. Participating in sports is a healthy outlet many students take part in to stay motivated throughout the school year. For Seward High School senior Naomi Ifflander, being active in sports was a normal part of her life. Naomi participated in volleyball, wrestling and soccer in her four years of high school, but unfortunately could not finish her final season of soccer due to Covid-19. She says, "I was looking forward to finishing senior year strong and having fun with the team." For seniors in high school, this final sports season in the spring is the last little hoorah to their high school journey, excluding graduation.
Her favorite experiences in soccer were simply creating memories while traveling and being with the team. There is more to being in a sport than practicing and competing. Naomi says her biggest challenge in soccer was the mental game, something she found to be particularly tough in her individual sport: wrestling. 
In the future, Naomi plans on participating in collegiate volleyball. "Not as serious as the NCAA level, but still playing competitively." Her advice to future athletes in any of her sports is to have fun and don't be TOO serious. "High school is not the end all be all. There is still more to come, but make sure to savor the moment." Losing a sports season is not easy for anyone, but Naomi certainly made the most of the time that she had.
Madilyn Moore
For senior Madilyn Moore, soccer was not always her first choice of sport, and she did not actually start playing until her sophomore year of high school. However, within two years, soccer had become her favorite sport, which she definitely looked forward to finishing her senior year with. Her junior year, Madi was given the Good Sport Award at the region tournament. "We didn't stay for awards, and when coach Beck got on the bus and handed me the medal, I was super excited." She still considers herself a beginner in the sport, so it was a memorable accomplishment for her.
In her two years of soccer, Madi put a lot of effort into being a leader on the team, and trying to keep the attitudes and energy positive when the season got tough. Although a leadership position is demanding, she says that being so new to the sport her sophomore year was the most challenging part while she played soccer. "Learning how to play and what to do was not easy, and I really had to stay patient with myself."
After graduation, Madi wants to continue to play soccer, but just to have fun and stay active. She says it is one of the funnest sports that she has ever played, and "although [she] might not be the greatest at it, it is always a good time and a way to clear [her] mind." For future soccer players, she wants them to keep a positive outlook on the team. Madi mentioned that soccer is a team sport, and supporting one another is crucial and doing your best to avoid making it about yourself will go a long way. Her final message is to respect your teammates, your coach, and be a team player.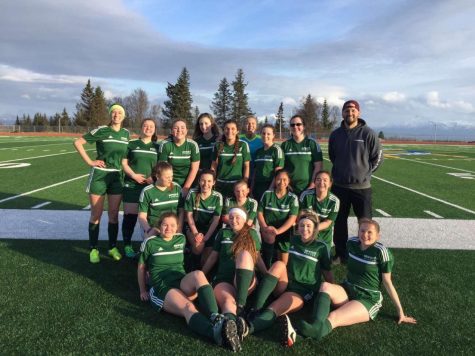 Sophia Dow
It is not easy to be a high school athlete; it is even more difficult when you cannot even participate in your own sport. This is true for senior Sophie Dow, who unfortunately tore her ACL her junioryear during basketball. Because of this injury, she was unable to participate in any sports for months, and completely missed her junior soccer season. For Sophie, this senior season was going to be special: "I was looking forward to finally returning to the team, and have the chance to be able to play again." As we all are aware, that sadly will be unable to happen. Even though her soccer career has been less than ideal, she was able to make memories on traveling trips, having inside jokes amongst the team and even made Second Team All-conference her sophomore year.
Sophie had been playing soccer since she was just four years old, but lost interest in the sport by her freshman year, and did not even play. The next year, she decided to go out for the team, fell in love with the sport again and proved she could still be successful in the sport. Since she was unable to play the last two years, Sophie hopes to play on an intramural team in college, considering she has the time to do so.
Her advice for upcoming players is to "be thankful for every moment. It can be easy to take everything for granted, but you never know if an injury or other circumstance may lie ahead. I definitely wish I had taken advantage of the times I had."
Madison Athey
Like most Seward senior soccer players, Maddy Athey was most excited to finish the last chapter of high school playing with her teammates. Maddy has been playing soccer for the past two years, and mentions that it is definitely her favorite sport. "I became interested in the sport my sophomore year because my friends were all going to play soccer, and I had played for two years before." Although she originally joined the team to play with her friends, she admits she enjoyed challenging herself to practice and get better at skills that would not only benefit herself, but her team.
Maddy says that her favorite memory while participating in soccer was "when we stayed at the church in the valley, and played games the entire weekend. It was so much fun!" Soccer was fun for her, but she does not plan to continue participating in the future, so this season was going to be her last chance to play. Although it might be the end for Maddy, her advice for the next generation of Seward soccer players is "to work hard and make sure you put your all into the sport because it makes it worthwhile."
Joshua Park
Joshua Park is very involved with the school, whether it is student council, DDF or music collective, he keeps himself busy. Despite trying other sports his early years of high school, soccer is the only sport he feels a real passion for. Josh says that soccer is certainly his favorite sport, and that he took interest in it because his dad has a passion for the sport. Once Josh put on a pair of cleats, there was no going back. Since this is his only sport, he says he was looking forward to this final season just as an opportunity to keep playing the game. "It was definitely important to me… just the prospect of playing again with my teammates and coaches was really exciting."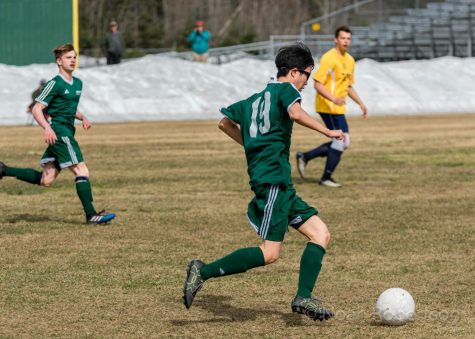 Josh has been playing soccer since he was in elementary school, and says  his Sophomore and Junior seasons were the highlights of the sport. "I also had a huge blast helping out coach with the middle school team in Fall, it was great to see the players grow throughout the season." Josh is known for being an academic standout, and mentions he was not the most familiar with the intensity of varsity sports. He adds that the conditioning was much more difficult than in the past, and trying to be the best soccer player he could be took a lot of extra work. "It definitely helped me acclimate to be more active in my later years."
This unfortunately is the end of Josh's competitive sporting days. He states that in college he hopes to be a part of an intramural or club soccer team for fun, as his priorities remain on his academics. He also says that he has great interest in playing table tennis during college. As Josh's high school road comes to a close, he offers some additional insight for future athletes. "If you don't have the passion or want to do it, then don't do it… Soccer is an intensive team sport: every player counts, and if even one player isn't ready to play, it'll anchor down the entire team."
Bjorn Nilsson
Bjorn Nilsson might have a sweet mullet, but he has some even sweeter skills when he is out on the soccer field. Bjorn has been playing soccer for as long as he can remember, and participated in the sport in all three years of high school. His freshman year, he even was able to join his senior brother Kjell on the field, and share those moments together. Before he found out that his final soccer season would be cancelled, Bjorn said he was looking forward to just having fun with his friends, win or lose.
Bjorn mentions that he was never super serious about soccer, and did not put as much time into the offseason as he did for other sports. That does not take away from the fact that he scored a goal his junior year, which he says was one of his favorite memories while playing soccer. Bjorn was in it just to have fun: "I started playing because all my other friends were doing it and it looked fun." He adds that playing soccer was harder for him than most because of his constant knee pains. "It definitely hindered my ability to give my all in practice and in games." Who knows, maybe he could have had three goals last season. 
He does not plan on continuing in soccer after high school, and if he does play, it will probably be either intramural league or just for fun. His soccer career might be over, but his advice for the next group of players is to work hard in the offseason because it will pay off. He also did not fail to mention "don't get discouraged from playing in the gym because when the snow melts it gets 10 times better." The luxuries of being a soccer player in Seward!
John Moriarty
Senior John Moriarty goes out onto the soccer field to have fun. The objective, of course, is to try and win, but win or lose, he plays to enjoy the moment with his friends. John has been playing soccer since elementary school and besides basketball, it is one of his favorite sports. When I asked John what his favorite memory playing soccer was, he made reference to the one year I actually played stating, "One of my favorite memories was when Hunter had the ball and you stole it from him." Thank you for reminding me, John!
This article is not about me; the spotlight is on John. John has been an instrumental part of the Seward soccer program for all the years he has played. Beginning his freshman year, he played big minutes on a team that did not have much depth, so there was minimal time to rest. "My biggest challenge when I played soccer is having to play the whole game due to a lack of subs." There is a lot of running that goes into an 80-minute soccer game. As stated before, John plays soccer for enjoyment, and his advice for the next group of young soccer players is to go out and have fun.
Jaden Vandyke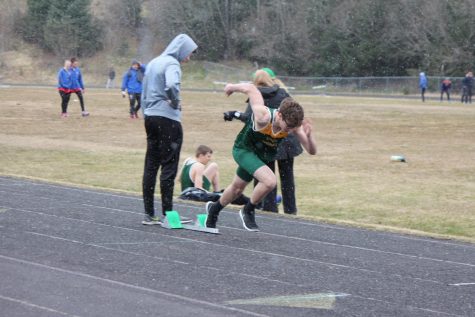 Jaden VanDyke ran cross-country all four years of high school, but never considered participating in track until his junior year. Jaden is also a big-time wrestler, and has success at the high school level, as well as club wrestling. Once he decided club wrestling was no longer for him, he decided track would be his chance to occupy that time. After only participating for one year on the team, Jaden was going to step into the role of a leader on the team, and says he was most excited to see the entire team hone their skills and get faster this season.
Although his track career was short-lived, Jaden was able to make some memories in his only year of track. He qualified for state in three events, and said his favorite memory of the season was that weekend "when Applebees took forever to get us our food." He also mentioned on the track the highlight of the year was being runner up in the 4×400 meter relay at regions, and reaching the podium at state. As mentioned before, track was a new sport for Jaden, and it had challenges along the way. He states that "figuring out how to pace myself so that I did not have more energy than I needed," was the most difficult obstacle.
Jaden does not plan on running track for a school, but plans to continue running in his free time, whether it's on a trail, the road or even at the track. His take away from the sport, form does way more than make you look good. His advice for up-and-coming track athletes is to just stay active.
Connor Spanos
Finally, there is myself. I participated in track during my freshman and junior years, and was able to take part in many great experiences. Whether it was standing atop the podium at state in the 4 x 400 meter relay as a freshman, attending the Brian Young Invitational or just making new friends, the journey was as great as it was long. I began track in middle school, and fell in love with the competition of not only trying to beat others, but also trying to beat myself through my previous times.
My biggest challenge in the sport was trying to figure out where I belonged. I found success in track my freshman year, but it also emotionally drained me, which ultimately led to me taking a break from the sport as a sophomore. It was during my Junior year that I decided to return to the sport with a new mindset and it was an absolute blast, definitely one of my favorite sport seasons I have ever been a part of.
The competitive nature of track, and knowing that the outcome of a race is completely in one person's hands is the reason I enjoy it so much. Although I have officially committed to swim competitively in college next year, I am strongly considering continuing track in the offseason. I had very big ambitions for my senior year, and would still like to have a chance to reach those ambitions when at college. As my final chapter at Seward High School comes to a close, my advice for upcoming track athletes is to "trust the process." Track is not an easy sport, and it takes a few weeks to get the ball rolling, but once you get through that initially tough stage, I promise you will never look back. The effort you put in is absolutely worth the reward.