Trail Reviews-Mt. Marathon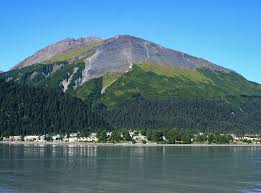 Cody Bryden, Getting out of the classroom
October 15, 2020
Growing up in Alaska, it is almost impossible to not be someone who enjoys being outside in the wonders of nature. Just having mountains surrounding you gives you a great deal of respect for them. Climbing them is even better. Even if you weren't raised here most people still enjoy these scenic views and some even partake in mountain hiking. Which brings us to one of the easiest most enjoyable ways to get outside and stay fit; to hike.
Around the Seward area, there are plenty of hiking trails that are used daily by locals and adventurous tourists during the warmer months. There is one treacherous mountain however, that is known by people across the globe; Mount Marathon. Hikers who attempt this 3,022 feet ascent will be greeted with spectacular 360 degree views and only a pound of gravel in their boots if they're lucky. This view encompasses the entire town of Seward, Resurrection Bay and the ocean beyond. 
Mount Marathon is loved by both locals and travelers as the historic location of the annual Mount Marathon race. The race is open to runners of all ages and occurs every fourth of July. The race is not the only thing that makes this mountain special. Since there are numerous routes to get to the top, a well known alternative is the Jeep trail. This trail is more of a gradual uphill rather than a steep technical one like the race trail. The Jeep trail takes you out of the tree line and into an alpine bowl with amazing views. If you wish to continue from there however, a trail leading up along the lower ridge will take you to the top of the race trail. 
This hike is more laid back and easier than the race trail but it does have some downsides.  It is notorious for its muddy conditions pretty much all year round. Also parking can be hard to find in the summer months. Either way, whether you desire an intense yet rewarding climb along the race trail, or a more relaxed hike with equally good views and destinations, Mount Marathon is the mountain for you.