Trail Reviews: Lost Lake
For many Alaskans, the view of mountains and the salty winds of the sea are not that hard to come by; however, what if you wanted something more beautiful? The views of Sheep Mountain to Rugged Island and from Resurrection Peak to Mount Alice can be obtained all in one spot near the Seward area. With a hard, but not too challenging hike or bike ride you could have this amazing view for yourself.    
Lost Lake Trail, which goes from Bear Creek to Primrose North, takes you through elegant spruce forests and delightful meadows as you wander the narrow U.S. Forest Service trail. After three miles of dense spruce, the path opens up on a mountainside full of meadows and brush offering spectacular views of nearby mountains. Another two miles of climbing, you'll find yourself standing on the dome hill looking down on the vast views of Seward and Lost Lake.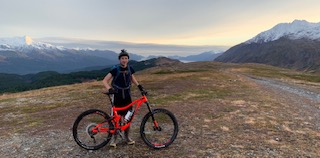 From there, the path climbs up a small alpine ridge cresting the half way spot. Here the views of Lost Lake, amid the panorama of near and distant mountains, slowly disappear as you descend into the rolling alpine terrain. Eventually, you'll slip back into the spruce forests and hike the rest of your 14 mile trek down to Kenai Lake and the North Primrose Trailhead.
These awe-inspiring and breathtaking views arguably make this one of the most popular mountain biking routes in the Seward area. It was named the number one biking trail in Alaska by MTB Project due to its flowy top single track and it's fun but technical lower section. The most common part that is ridden is the first six miles to the lake on the southern side. In this section, you gain 1850 feet of elevation just getting to the lake. This makes the down ride much more enjoyable than the long push uphill. Just watch out for the dangerous cliff edges and big roots along the ride back.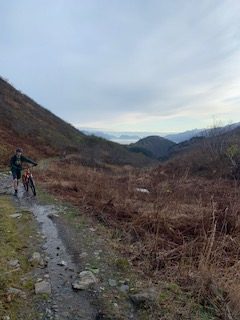 This hike is more technical and tougher than some of the other trails on the Kenai Peninsula, but for many the view at the top is well worth the blisters and banged up shins. The muddy clothes can always be washed, but the stories from the views at the top can't be replicated without seeing it for yourself. They say a picture is worth a thousand words, but who wants to see a photo when you can go and see it for yourself.