Jacoby Dominates at US Open and Commits to the University of Texas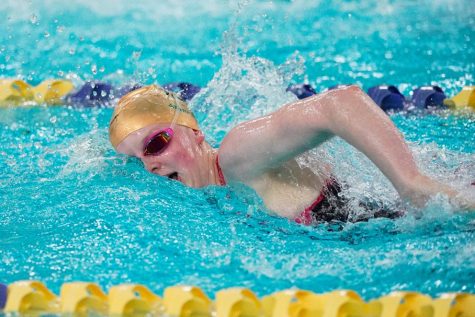 Seward High School's incredible Lydia Jacoby attended the US Open national championships in San Antonio, Texas, this November where she swam a time of 1:07.57 in the 100 LCM (long course meters) breaststroke. This time solidified Jacoby as the second-fastest ever female aged 15-16 in this event and put her in the top 40 women worldwide. As Jacoby continues breaking records, succeeding at championship meets, and qualifying for this summer's Olympic trials, she has entered the realm of college recruitment. 
Because of COVID-19, the US Open was a little different this year. To avoid large crowds, the meet took place simultaneously at 8 separate locations. Jacoby remarked that "although it's sad not to have it be quite as hype with everyone together, I think it went really well and set a good precedent for big meets in the future." Jacoby prepared for the competition by training twice a day six days a week. While not in the pool, Jacoby implemented a lifting routine and focused on nutrition and sleep. "I felt really good going into this meet," added Jacoby, "and I was very happy with my performance." She placed second a mere .07 seconds behind her German competitor in the 100 breaststroke. In her 200 LCM breaststroke, Jacoby dropped over 5 seconds, swimming a 2:32 and making her second Olympic trial time.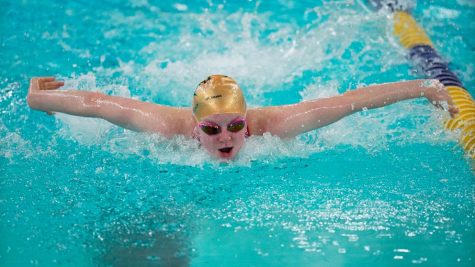 This summer, in between training sessions, Jacoby spent several hours a day speaking with recruiters from colleges and universities, who reached out to her the second she officially transitioned from sophomore to junior on June 15th, the earliest date colleges can contact students. At least 40 schools contacted her. Still unsure of what she was looking for, Jacoby was "very nervous about missing out, so I actually ended up talking to almost all of them at least once." 
Jacoby said she felt honored to be desired by so many schools and see her hard work pay off. However, the process was very stressful for a barely sixteen-year-old. "Although the process is really cool and I'm beyond grateful for it, deciding my path for the next 6 years is a lot to be asked to do," said Jacoby. "It's also tough to build such a strong connection with so many people and have to just cut it off when you eliminate the school," she added. "It's like some sort of breakup and committing is the marriage."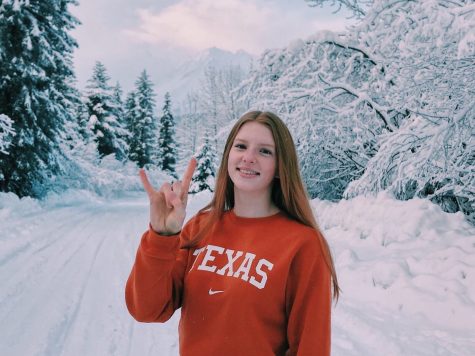 At the end of the US Open, Jacoby took advantage of her travels to San Antonio and visited Notre Dame, the University of Texas, the University of Tennessee, and North Carolina State University. Each of these colleges has phenomenal academic programs and fantastic swim teams, but one stood out. Jacoby committed to the University of Texas on November 29th. "All the schools I had chosen had great teams, good academics, good coaches, and everything, but I really just had a gut feeling even since July that it would be Texas," said Jacoby. When speaking with the head coach, Jacoby found "she was easy to talk to and seemed to value a lot of the same things I did. Even on that first conversation, Texas was already separating from the rest". Additionally, Austin was an area that Jacoby loved and could see herself fitting into. 
The University of Texas has one of the best swimming programs in the country and Jacoby believes they will help her reach her full potential as an athlete. "Training with a group of the best swimmers in the country who are all dedicated to the sport and amazing coaches who believe in me and want to see me succeed will be a huge factor in my college experience. I also think having such a supportive team and coach will help me grow as a person and not just an athlete," said Jacoby.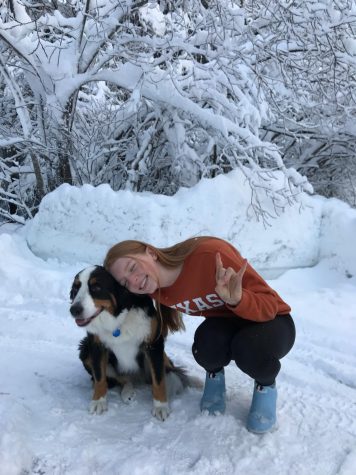 In her final year at Seward High School, Jacoby hopes to break the national high school record in the 100 SCY (short course yards) breaststroke. She will also focus on improving her 200 breaststroke and rounding off another event to swim in college. "Seward High School has always been so supportive of what I am doing both academically and athletically," says Jacoby. "The staff always goes out of their way to make opportunities for me even in our small town. Also, I've grown up swimming in Seward so the same friends, coaches, and community have been with me all the way through my athletic career."