Trail Reviews: Carter Lake
Cody Bryden, going places and seeing things
December 17, 2020
Sunny alpine meadows, surrounded by tall mountains and lakes of glass. This may sound fairly picturesque, but trust me when I say words do no justice. The treasure is at the end of this short but moderately challenging hike. This place has always been one of my favorite places to go to since I was able to walk. 
Carter Lake has been home to most of my seventeen different birthday parties. The trail is almost four miles out and back with an elevation gain of 1105 feet. The first mile and a half is the remnants of an old jeep trail which zigzags up the mountain to reach alpine meadows. The steepness of this first area turns away people who are uncomfortable with climbs; however, if you're down to break a sweat, everything after the climb is flat, open meadows and small patches of alders.
Once you get on the flat ground of the tiny valley, you'll reach your last small hill. Upon summiting the top of the bluff, you'll be greeted by your first views of Carter Lake. This picture-perfect lake was once carved out by a glacier hundreds of thousands of years ago and is home to a healthy population of hatchery-stocked trout. These tasty fish range eight to fifteen inches with a few growing over twenty! The fishing is absolutely amazing, and this lake is where I caught my first fish.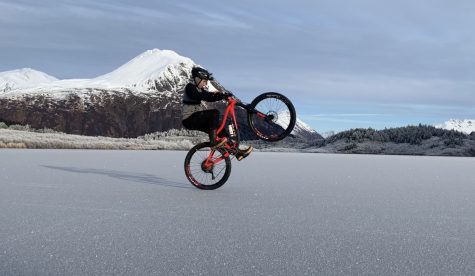 As you continue on your hike, you'll see tons of wildflowers and small alpine plants. In the fall, the low-bush blueberries are extremely plentiful as are the fall-colored alder leaves too. The tall, rocky mountains stretch high into the sky on either side of the valley. The sharp greys of the slate rocks mixed with the bright white of the leftover snow patches make the views so much better than I can describe it. 
As you get closer to the end of the maintained trail, you'll get to a tiny rise overlooking Crescent Lake. This deep, seven mile lake loops around the mountain on the west side of the valley. Arctic grayling, also known as the sailfish of the north, calls this lake home. If you would like to fish for these beautiful grayling, make sure to check with Alaska Fish And Game for the most recent changes in the regulations.
All in all this place is a spot painted of remote dreams and wildest wonders. The views are breathtaking, the fishing is phenomenal, and the trail isn't extremely long. It gets you into fresh air and away from civilization. As a Carter Lake local, I cannot recommend this trail enough.