Trail Reviews: Vagt Lake
Everyone loves a short, leisurely hike with little technicalities and fantastic views. Vagt Lake is a trail for the whole family. With gorgeous mountain views, easy fishing and 25 foot cliffs to jump off of into the water, this may be the most popular hike in the area. In between Moose Pass and Seward, the trailhead is at a great location for road tripping travelers and a fun weekend activity for locals. 
The path to Vagt Lake is three and a half easy miles out and back. A well maintained trail and only a 470-foot elevation gain makes this hike ideal for everyone. The trail is popular with mountain bikers looking for a fast ride. Young kids will especially find this hike a blast when they learn you can cast a line in the water after walking for less than an hour.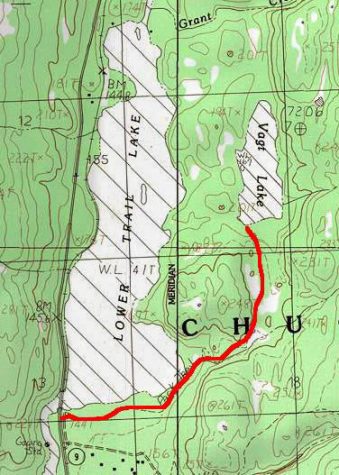 Vagt Lake is home to many delicious, colorful rainbow trout. Stocked by Alaska Department of Fish and Game, these trout are raised in a hatchery until they get to the fry stage. Once the fry are about two inches long, they are transported to the trailhead in large tanks. From there, they are put into smaller tanks that are in backpacks and hiked up to the lake. Then, the trout are released so that they can grow up and become the trout that people love to catch.
If you've spent enough time at Vagt Lake, you will know that this body of water has a hidden cliff on the back side. A small foot path wraps around the water through the forest to get there. Upon arriving at the top of the cliff, you'll be greeted by a beautiful view of Crown Point with the reflection of the mountain on the lake below. There's a little platform that's missing a board or two and an old tree ladder to climb back out of the water.
Whether you need a place to get a refreshing hike or cool off from the hot summer sun, Vagt Lake is the perfect place for you. From fishing for dinner to taking a walk with your family. From going swimming with a group of your best friends to snapping attempting that perfect Instagram photo. Go to Vagt Lake sometime because, trust me, it'll be worth it.