Boys Basketball Preview
The 2019-20 Seward Seahawks basketball team was one of the best teams in Seward High School history. They had a regular season record of 17-4, and qualified for the state tournament, which was unfortunately canceled. That team was successful because they were experienced, resilient, focused and hardworking. Most of the players had been playing together since elementary school, gaining cohesion and chemistry. In addition to those traits, the offensive and defensive tactics implemented by Coach Plan certainly aided in the Seahawks' success. They played fast, running a full court press for a majority of their games in an attempt to exhaust the opposing team and force them to make mistakes. 
With only six varsity players returning, this year's team has big shoes to fill. There are five freshmen and some underclassmen who will certainly have to step up and play a lot of minutes. Due to the lack of experienced players compared to last year, tactics will have to change. The team will most likely not press. In fact, their philosophy will probably take a complete 180, trying to slow the game down in order to conserve the few players that they have. 
The five freshmen have had to learn the system quickly. Normally they would have an extensive preseason where they could ease into high school basketball, a big jump in skill, size, and speed from middle school. This year, their first game is only two weeks after the first practice. Senior Collin Mullaly said, "The freshmen have been struggling a bit, but they are getting a lot better every day."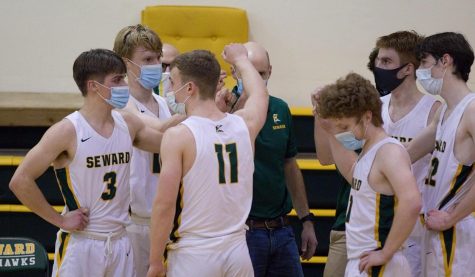 This year will look much different compared to past seasons due to COVID. As of now, the Seahawks will only be allowed to play the teams on the Peninsula: Homer, Nikiski, Soldonta, and Kenai. Masks will be required while practicing and playing, and fans will be limited to two per player. Regional and State tournaments are scheduled, but unless COVID cases decrease substantially, they probably won't happen. There is also a chance that later in the season the Seahawks will be able to play teams in Anchorage and the valley, but that seems very unlikely. 
Despite the postponement and restrictions, Seward basketball players and coaches are very excited to be back on the court. Junior Tommy Cronin said, "I'm excited to play with the seniors and new freshmen." After the first week of practice, Senior Sam Koster said, "It has been tough getting used to the mask, but I am really excited for our first game this weekend."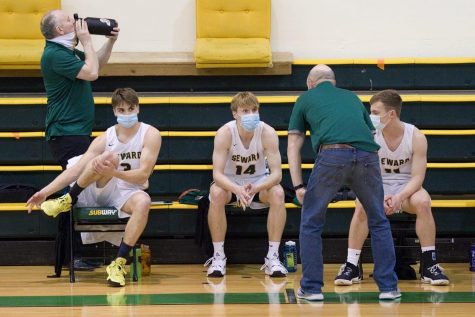 The Seahawks kicked off their season in Seward last Saturday against Soldotna with a victory. They also played Kenai on Tuesday where they lost by two points.  While you can't come support the basketball team in person, the games will be streamed. Home games will be on the Youtube channel "Albert Plan" under the title of Seward High School Sports.
Roster:
Freshmen: Kupono Albino, Bergen Davis, Jerrick Senecal, Ben Ambrosiani, Nick Ambrosiani
Sophomore: Ozzy Deel
Juniors: Tommy Cronin, Peter Spanos
Seniors: Sam Koster, Trey Ingalls, Collin Mullaly, Levi Deboard, Max Pfeiffenberger