Girls Basketball Preview
 The 2019-20 season was rough for the Seahawks girls basketball team. While they played hard and had fun, they did not find much success winning only three games. That team had a lot of young players who gained experience, and improved while learning from their mistakes. 
The Seahawks this year are looking to turn the program around and win more games. In order to do that, they will need to make some adjustments. When I asked seniors Anevay Ambrosiani and Katelyn Lemme what they are doing differently this year that will help them win games, Ambrosiani responded, "This year we are doing a better job recognising our bad decisions and making better ones." Lemme said, "I have been posting up more which is giving me better shots closer to the basket."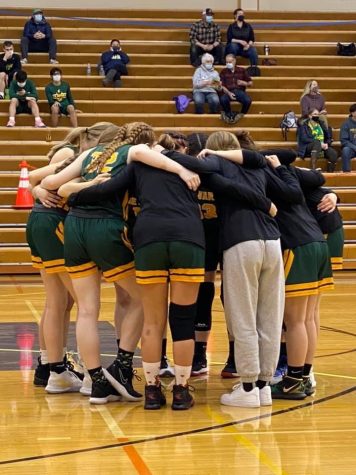 The Seahawks have a good distribution of players, almost an even split of underclassmen and upperclassmen this year. This is a great opportunity for the younger players to learn from the more experienced players. They would normally have several weeks to learn the system, but this year's weird season only allowed for two weeks. Despite this, Ambrosiani said, "The underclassmen have been doing a really good job, and they played well in their first few games."
This season will look a lot different to past seasons due to COVID. As of right now, the Seahawks will only be allowed to play the teams on the peninsula: Homer, Nikiski, Soldotna, and Kenai. Masks will be required while practicing and playing, and fans will be limited to two fans per player. There is a Regional and State tournament on the schedule, but unless COVID cases decrease substantially they probably won't happen. There is also a chance that later in the season the Seahawks will be able to play teams in Anchorage and the valley, but that is also very unlikely.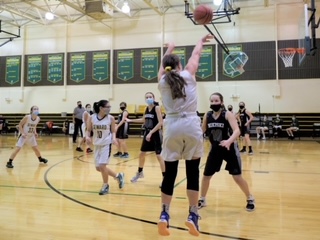 The players agree that competing in a mask has been challenging. Sophomore Lena Jagielski described it as, "extremely difficult," and Lemme added, "I was struggling at first, but my body is getting used to it."
In their first week of games, they played each of the peninsula teams once. Their first game of the season was at home against Soldotna. They played hard but lost. The Seahawks were looking to bounce back against Kenai, but lost by four points in the final seconds. Against Nikiski, they were only down two points at the half and ended up losing by around 10. They finished off the week against Homer, losing another tough one. While they lost their first games against each of the teams, they played very close with most of them, and have a very good chance of winning some games this year. They will make a few adjustments and get ready for a rematch against Soldotna on Thursday and Kenai on Saturday.
If you are looking to support the Seahawks, home games are on the Youtube channel "Albert Plan" under the title of Seward High School Sports.
Roster
Freshmen: Robin Cronin, Hailey Ingalls, Aami Brockman, Stella Dow
Sophomore: Lena Jagielski
Juniors: Annika Nilsson, Shelby Sieminski, Wren Dougherty, Hannah Schilling, Taylor Huett
Seniors: Katelyn Lemme, Anevay Ambrosiani, Linda Jack