Awesome OJT Opportunity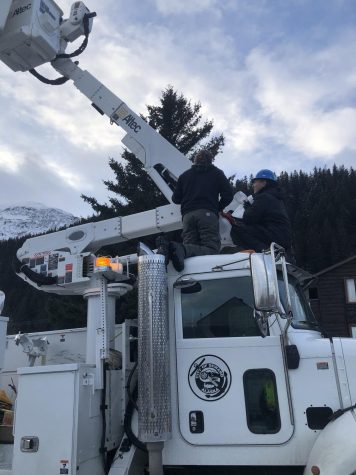 At Seward High School, students have the opportunity to work in the career they hope to go in before graduating. I started my on-the-job (OJT) work in February of 2020. I'm now entering my third semester of going to the local power plant and working with the linemen and operators there. I have learned more about generation and electricity in the past year than most people do in their whole lives. 
By working mainly with the operators, I also get hands on experience fixing and maintaining all six, 20-cylinder locomotive generators.  I also work fixing all the work trucks, and making sure all the lineman bucket trucks are greased, cleaned, and maintained.
The first week of me being there was mostly focused on learning safety procedures and   the dangers of working in the plant and switchyard. I also got to know where the safety gear lockers are and all safety equipment. Once I was settled in and got comfortable, I started to work on real projects with the operators. 
In the power plant, most of the work that needs to be done is just keeping up with maintenance on generators. I help with things like changing oil, wiping them down, and making sure all fluids and functions are in working order so they are ready at all times for an outage.
We run the generators every so often to make sure there are no major problems. More often than not, we find something we have to fix when we do these tests. I've learned so much looking over the mechanics' shoulders as they diagnose problems and fix them. The professionals I work under have been nothing but helpful to me since I have been there. They always stop and take the time to explain to me what went wrong and what they have to do to fix it.
A lot of credit goes to Ms. Ransom at the high school for making the phone calls and doing whatever it took to get me there. If I ever have any questions about OJT or even AVTEC classes for after high school, she's a very knowledgeable person and has always been able to give me answers to my questions. If you ever want to get some on-the-job training, she is the person to go to.
In order to participate in OJT, there is a prerequisite class, employability skills, that students must take. I highly suggest getting it on your schedule by your sophomore year, so that you can take full advantage of SHS's OJT program.