Worst Sled Ever?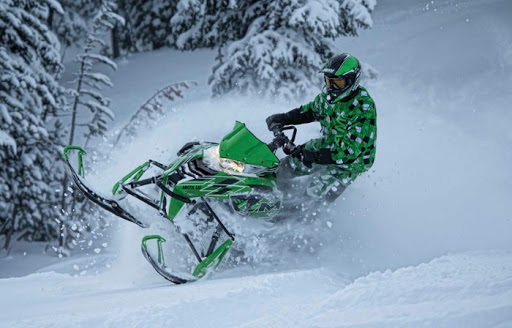 The Arctic Cat M series is an iconic powder sled. It is renowned for its bump- crushing suspension and killer looks. The M8 and M8000 are great sleds. The M8 was produced from 2006-2011, and M8000 has been made from 2012 to present. 
     In 2007, Arctic Cat introduced the M8, replacing the Mountain Cat chassis with the much more modern M8 chassis. It handled significantly better, was lighter and had better geometry. The 800 motor is a reliable and powerful motor. In 2010, the 800 motor was updated from the 2009 141hp to 2010's 163 hp. The M8 was optioned with a 141, 153, or 162 track length. 
      Special edition M8 and M8000 hill climb racer (HCR) sleds come with a stiffer lug, wider ski stance and slightly better engine performance. Limited edition models were also available with blacked-out graphics. Sno Pro models came with Fox Floats, which are top-of the-line shocks, and some lightened parts.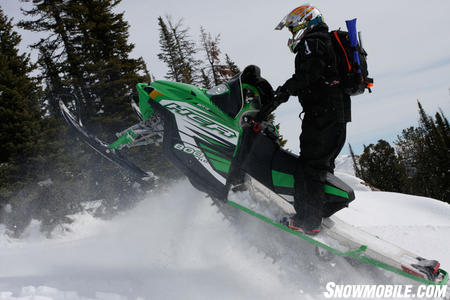 2012 was the first year of the Pro Climb chassis and the first year of the M8000 name. It had improved looks, a more modern chassis, better ergonomics, improved geometry and a higher center of gravity. The sled also had some suspension tweaks, weight reduction and other minor changes before being replaced by the similar Ascender chassis in 2018. 
      Ascender is a more refined version of the Pro Climb with similar looks; however, with Arctic Cats brand new in-house built C-TEK2 motor replacing the Suzuki 800, it is more powerful than ever. This new motor is legendary due to its high horsepower, torque and new clutching system with a roller bearing making it possible to run higher belt tension. The higher belt tension creates a crisp throttle response and better efficiency. Narrower body panels help prevent paneling out when sidehilling. 
    Opinions: I really like Arctic Cats M8 and M8000 mountain sleds due to the bulletproof reliability of the Suzuki motors since replaced with the promising C-TEK2, a reliable power plant. The looks and the affordability of the M8 are hard to beat. If  considering a brand new two-stroke, I would buy a M8000 or a Polaris RMK.
Photo credits
https://www.snowest.com/2017/02/review-2018-arctic-cat-m8000-sno-pro-?page=6
https://www.snowmobile.com/gallery/gallery.php/v/main/reviews/arctic-cat/2011-arctic-cat-m8-lineup-review/M8-HCR-Action04.jpg.html
http://www.arcticinsider.com/article/the-top-10-things-to-know-about-the-2015-arctic-cat-snowmobiles