Boys Basketball 2021
The 2021 boys basketball season was full of ups and downs. The Seahawks dealt with challenges, but despite this they were very successful. The junior varsity team steadily improved and played their best basketball at the end of the year. The varsity team carried the program's momentum from last year's state qualifying team and had a winning season.
COVID obviously affected the season. Players, coaches and spectators were required to wear masks, and a very limited number of fans were allowed to attend in person. The season was postponed and eventually compacted into an intense six-week period.
A limited roster was also a challenge for the Seahawks all season. With only six varsity players and seven junior varsity players, everyone played most of the game without a lot of rest. This weakness was accentuated by the intense schedule. Both varsity and junior varsity played sixteen regular season games. They played on Tuesdays, Thursdays, and Saturdays–sometimes having four games in seven days. Their competitors had full rosters, allowing them to constantly have fresh legs on the court. Fatigue set in early for the Seahawks, and they started their season with a losing 2-3 record.
"It took a while to get used to playing with masks, and with just six guys, but once we got some conditioning we were hard to beat," said Trey Ingalls. After the rocky start, the Seahawks went on a six-game winning streak during which they defeated every team on the peninsula.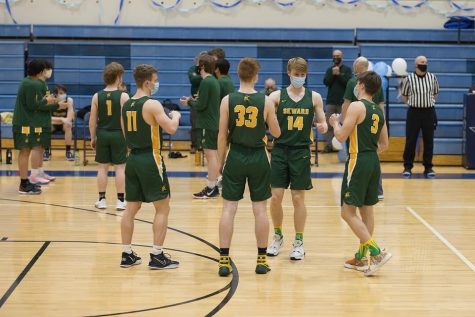 After earning a 10-6 regular season record, the Seahawks entered the region tournament as the second seed in the south. Their first game found them matched up with the third-seed Houston Hawks. Seward led for most of the game, but Houston stayed close. In the fourth quarter, the Seahawks found themselves down three with twenty seconds left. Trey Ingalls hit a huge corner three to tie the game with ten seconds to go. Houston answered by hitting a buzzer-beating three to win the game. With that, the Seahawks' hopes of qualifying for state were crushed.
In the final two games of the regional tournament, Seward beat Nikiski and Kenai handily. Seniors Sam Koster, Trey Ingalls, and Max Pfeiffenberger were recognized as first team all-conference; junior Tommy Cronin earned an honorable mention; and Max Pfeiffenberger was named as a second team all-state player. "It was nice to be recognized for all the hard work that we all put in. I hope the young guys see what it takes to compete at the varsity level so Seward basketball can continue to thrive," said Max Pfeiffenberger.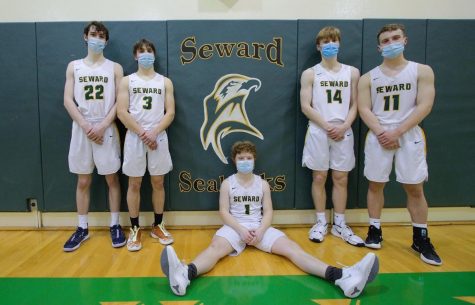 Five of the six players on varsity were seniors this year. This means that the team will look a lot different next year. The junior varsity players will have big shoes to fill and a lot of work to do to fill them. Senior Levi DeBoard said, "I don't think the JV guys are at a varsity level yet. They got a lot better this year, and if they keep that up in the offseason they should be ready in time for next season." 
The Seward boys basketball team has certainly built a culture of winning in the past few seasons. Hopefully, that can continue into the future.