Girls Basketball 2021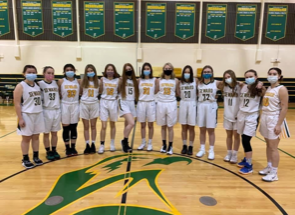 The 2021 season was the most successful in the past few years for the Seahawks girls basketball team. While they started off a little rocky, the underclassmen eventually gained more experience and confidence, and played a big role in the success of the team. The Seahawks improved every game this year.
COVID-19 obviously affected the season. Players, coaches and spectators were required to wear masks, and a very limited number of fans were allowed to attend in person. The season was postponed and eventually compacted into an intense six-week period. This did not stop the team from putting forward their best effort in every game.
The Seahawks had a rough start to the season. They lost their first five games, falling short against every team that they were going to play again during the regular season. Without some adjustments, they would have faced another tough year.
"We turned the season around by communicating really well. If something wasn't working, someone would speak up, and we would change it," said senior Anevay Ambrosiani. They snapped their losing streak with a four-point win against Kenai at home. "Once we got a taste of what winning was like, we wanted it even more which really drove us all to put in the time," said senior Katelyn Lemme. From that point on their victories outnumbered their losses. The Kenai game started their momentum and gave the team some much needed confidence. 
Heading into the region tournament, the Seahawks were seeded 2nd in the South. For the past two years, the girls were matched up against the powerhouse ACS in the first round of regions. It was a relief to be pitted against the 3rd seeded Redington Huskies this year. The Seahawks and the Huskies battled all game; the score bounced back and forth with several lead changes. In the fourth, Redington went on a run and opened up a ten-point lead. Unfortunately, the Seahawks were not able to close the gap. 
To finish out the region tournament, Seward beat Nikiski and lost to Grace, for a sixth place overall finish. Junior Shelby Sieminski was named as a first team all-conference player;  Katelyn Lemme received second team all-conference honors; and Anevay Ambrosiani earned an honorable mention. Shelby was also named as a second team all-state player. Head coach Curtis Berry was awarded Southcentral Conference Coach of the Year, and the 3A Girls Coach of the Year.
The future is bright for the Seahawks. There are only three seniors graduating this year, so next year's team will look similar. Katelyn Lemme said, "I tried to encourage [the underclassmen] as much as I could so they would feel confident." Confidence is a huge part of basketball, and encouragement from leaders can be a nice confidence booster. 
There is no doubt that the Seahawks are on an upward trajectory.