2021 Volleyball
With the volleyball season well underway, the girls are having a great start. They haven't played many conference games, and have mainly played in tournaments. The girls' record is three and three, excluding tournaments. 
There have been a lot of changes to the varsity roster this year, with eight seniors graduating last year. The girls have had to adjust to make the right lineup, thankfully with a lot of freshmen joining to fill up the rosters. 
Senior Shelby Sieminski says, "The freshmen are doing a good job at adapting to the positions they are put in. Maria Bunch got put as the libero and has been doing great rising to the challenge since the libero is the best defensive player and key component to both offense and defense."
When asked what it was like being a sophomore on varsity,  Robin Cronin responded, "It's fun and a good learning experience for next year, so that I can be more prepared for more stressful situations."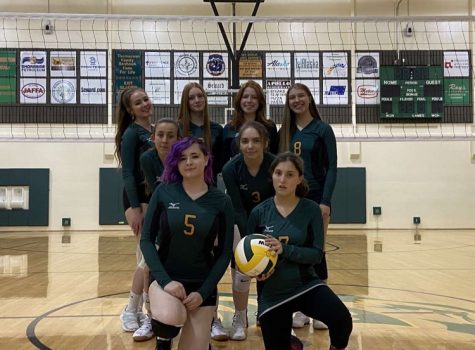 Despite not playing a lot of conference games, the girls have been playing really well in the tournaments. The team got third at the North-South tournament, with senior Anna Endres making the all-tournament team. Varsity took third in the Valdez, with Endres being selected for  all-tournament again, and Maria Bunch got the sportsmanship award. JV won the tournament, with Teyla Ramsey and Rowan Bean making the all-tournament team. Even though the team didn't place at Grace, Maria Bunch got all-tournament. 
Heading off to the Diamond tournament this weekend, October 22nd and 23rd. The girls are looking to get some W's! The last tournament they will compete in will be regions, hosted by Redington on November 5th and 6th. Junior Renee Elhard says, "My goal is to make it to state this year." 
The team has two more home games left. The first is on October 21st vs Nikiski. Make sure to wear pink,  because it's the breast cancer awareness game!! Then the last home game they have is senior night against Kenai on October 28th. Go support your Seahawks, and wish them luck for the rest of the season!! 
Rosters
Varsity:
#0 Maria Bunch, #2 Hannah Schilling, #3 Gaia Casagranda, #4 Shelby Sieminski, #5 Anna Endres, #6 Renee Elhard, #7 Kyana Hutchinson, #12 Hailey Anderson, #14 Alaina Armstrong
JV:
#1 Teyla Ramsey, #2 Robin Cronin, #3 Mikya Wallace, #4 Aami Brockman, #5 Kaia Delancey, #6 Nora Andrews, #7 Brooklynn Forshee-Kurtz, #8 Jordan Hartman, #9 Rowan Bean, #11 Ella Stefan.