The Importance of Sustainability with Teen Miss Alaska Earth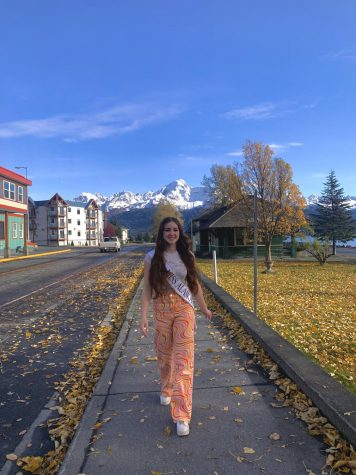 "I joined the Miss Earth organization in hopes to promote my platform – The Alaska Angel Project – in helping Alaska decrease the rate of marine mammal cruelty and how to make everyday living more sustainable. I have gotten exactly what I expected! Not only is the staff kind and hardworking, but they are always available to answer your questions regarding the pageant and projects. Miss Earth USA is confident, creative, innovative, and is constantly searching for new ways to bring sustainability to the table. I am incredibly thrilled that I chose the Miss Earth organization for my first national pageant!" (Nora Andrews on Pageant Planet, 2021) 
As a proud representative of Alaska representing our gorgeous state in the 2022 Teen Miss Earth USA, I cannot put into words how thankful I am for Alaska. Just over a year ago, I was upset that Alaska did not have much to offer that would benefit me in my future career. Now, as a representative for Alaska, I realize that it is important for the rest of the U.S, even the world, to hear what Alaska has to offer. 
Let's talk about my platform that I have presented to the national table. My platform, the Alaska Angel Project, is a project I designed originally to team up with other organizations throughout the state and help them spread their awareness and cause. At first, I started with Seaview's domestic violence and abuse program, where we fundraised over $1200 for women and children escaping abusive homes. As I became Teen Miss Alaska Earth, the project branched out to the Alaska Sealife Center right here in Seward. The Alaska Sealife Center helped me complete my Think Global, Act Local project in late September. For my project, I decided to collect items straight off of the Sealife Center's wishlist on their website, and ask for donations with bins set up at the Seward elementary, middle, and high schools. Even though the project was short-notice, my community acted fast and donated as much as they possibly could. 
In the future, I plan to form a first-responding rescue team with the help of the Alaska Sealife Center. A few years ago, I was driving along the highway when I witnessed a dead whale washed onto the shore not only being climbed on and poked at, but grown adults were taking pictures of their children doing such. These are all examples of marine mammal cruelty in Alaska. Although some animals are dead or wounded, they deserve the same respect as if they were alive. 
Additionally, if I were crowned Teen Miss Earth USA, I plan to make a difference by having our country finally go through the process of slowly stopping global warming. The thing about global warming is that most people think it hasn't even been brought to the table, but indeed it has. Global warming is a world-wide problem and a topic that is brought up often, it just isn't played through. Winning a national title means having a giant platform, which makes it automatically easier to get my ideas to the table and present them on a national level. 
Let's talk about sustainability; as a person who used to frequently go through plastic waste, I know that not everyone sees living sustainably as the easier way to live. Sustainable living includes sustainable fashion, eating, drinking, exercising, and more everyday actions. Even during the holiday season, the Miss Earth organization and I encourage you to use reusable shopping bags, rather than getting a bunch of plastic ones at check out. Additionally, it is important that after discarding wrapping paper, to recycle or burn it, as a healthier alternative for our planet. 
Sustainable fashion has had a growing platform for the past 10 years. Queenly, an app made by previous pageant queens, is an app that's purpose is to solely buy and sell used formal dresses. Yes, buying a new dress is amazing, but there are plenty of jaw-dropping gowns that are affordable and sustainable for our environment right on Queenly! Also, when buying jeans, it is important to shop at the right place for them. Many brands recycle their jeans, meaning they take old denim and build it into a brand-new pair of jeans. 
When eating, make sure you are using reusable silverware, or heavy-duty plastic silverware that can be used again. Eating and drinking from affordable brands that recycle their materials is the best option to sustainable eating and drinking. 
The past 7 months as Teen Miss Alaska Earth have been amazing. In January after I compete, my Alaska title will be surrendered either way. My ideas for a better earth started with my great state of Alaska, and I cannot thank everyone enough for every step of the way towards nationals. My community has made it easy for me to compete and they have been nothing but supportive. I thank you all.
Sincerely,
Your Teen Miss Alaska Earth 
Nora Andrews