Senior Spotlight with Aiden Rodriguez
Aiden Rodriguez voted senior class flirt and worst case of senioritis. He can be found either fishing or riding his dirt bike. For the remainder of the school year, Aiden will be attending SHS online. 
After graduation, Aiden plans to be fishing for a year or so making some bank! If fishing starts to not be as exciting, he has a backup plan, which is getting his welders degree, and hopes to determine which he likes best after having experience in both. Even though fishing is hard work, he enjoys it because it is good money. 
Aiden's life goal is to be at a good place with money and build a cabin somewhere in Colorado. Who knows, maybe he will even have a dirt bike track right out his back door, obviously a legal one though.
 He has learned some valuable lessons over the years and one being, always think twice before doing anything. He candidly admitted, "I don't…but still think twice." As you can tell from his response, it is still a work in progress, LOL. He currently is not living the life of his dreams, but in a few years he should be there.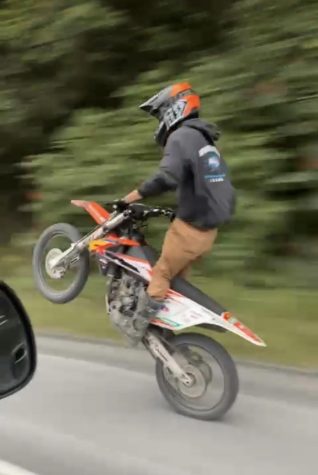 Some facts about Aiden are that he recently learned to always keep going! This can relate to anyone that has been put up against setbacks. When asked Where do you see yourself in 5 years?, his response was, "In 5 years I see myself living on a beach somewhere enjoying the sun." This is quite different from the life goal, but a mini vacation to somewhere tropical doesn't seem too bad. When asked What are you afraid of?, his response was, "Honestly, the only thing I am afraid of is my dad: Big Scary Mexican."
Whether it is fishing, welding, somewhere tropical, or somewhere cold, Aiden has some exciting paths to take on the journey of life.