Wrestling at Nationals
This past July, Hunter Forshee-Kurtz, a sophomore at Seward High School and nine-year Marathon Wrestling member, competed at the National United Wrestling Association for Youth (NUWAY) Combat Summer Nationals in Atlantic City, New Jersey. 
Originally, Hunter planned to attend the competition with a Soldotna wrestling team. He commuted two days a week to Soldotna for practice leading up to competition, almost 200 miles round trip. Unfortunately, the team canceled their trip.  However, Hunter was not deterred. Instead, he traveled with his dad to compete as an individual, thanks to a generous sponsorship from Metco.
Hunter won second place in Freestyle early in the day, third in Greco-Roman, as well as competing in Folkstyle. Hunter stated that it was definitely "more competitive out of state, especially the East Coast," and even New Jersey itself was a "big step up from Alaska."
The new competitors were "way better," and had a different mindset than some Alaskan wrestlers. Hunter observed fellow competitors lose, get upset, but then use that to do better the next time they went up against their opponents. 
When asked for some advice that helped push him to success, Hunter said "believe in yourself" has set a tone for his career thus far. From his experience in this and other competitions, Hunter has found "not show[ing] that you're fatigued," is a real asset and strategy in wrestling. He certainly proved this effective in his recent competition, as he took to the mat 10 times in the span of one day, competing more than most other competitors without showing the toll it took upon him.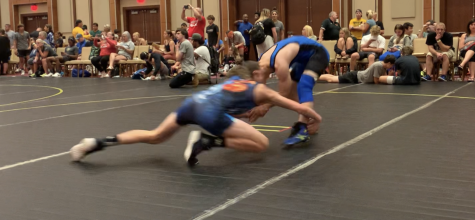 Hunter's highlight of the competition was "getting second place in Freestyle," and this is consequently the part he is most proud of. However, every good athlete has new goals as soon as the first are met, and Hunter's next ambition is "to become a state champion in high school."
While Hunter "had a lot of fun," he said, "I definitely want to do better." He stated, "I didn't achieve what I wanted, but I learned from it, and am looking forward to the [Alaska] state championship to use what I learned."