Humanities Newest Advancement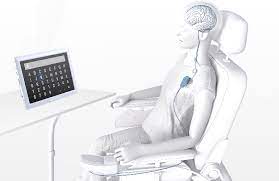 Synchron has gotten permission from the Food and Drug Administration (FDA) to test its brain computer interface (BCI). The first patient to be part of this testing in the United States suffers from amyotrophic lateral sclerosis (ALS), a condition which limits his movement. With this device, the patient will be able to send emails and shop online just using his mind. This is possible by reading the patient's brainwaves. Synchron also had success with its four patients in Australia, who now can use their devices without supervision. 
Unlike rival company Neuralink, which has had trouble getting approval for their own BCI, Synchron's stentrode device doesn't require cutting into the skull. The device will be inserted into the jugular vein for easy access. This will allow it to communicate the brain waves through a receiver to a different device. This device is so promising that Elon Musk, founder of Neuralink, is looking to invest in Synchron.
Just like any human advancement, it's also got critics with Mark Zuckerberg saying, "Normal people, I think in the next 10 or 15 years are probably not going to want to get something just installed in their brain for fun." These devices may not yet be useful in everyday life, but for those who suffer from injuries or problems like ALS, or spine damage, it's instrumental.