Who Will Ever Reach 2,900?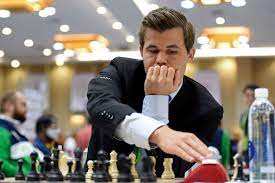 Will Magnus Carlsen or anyone else ever reach an Elo rating of 2,900? This rating is a score created by Arpad Elo that ranks chess players. Beginning its use in the 1970s, the Elo rating makes it easier to compare chess players from the past or present. The maximum rating a person can have is 3,000, and the highest human rating ever achieved was by Magnus Carlsen when he peaked in May of 2014. His score was an unbeatable and incredible 2,882. This rating is made even more impressive by the fact that only fourteen players have ever reached 2,800, and only Carlsen and Kasparov have surpassed 2,850.
Hikaru Nakamura is known for his exceptionally quick calculation skills, having a Elo rating of 2,768 and a peak of 2816. He became a grandmaster at only fifteen years old, and has always been a big part of the chess community ever since. However, it is very unlikely that he will ever surpass 2,900 with him being thirty-four and most likely already past his peak. 
Another hope is that a chess prodigy can carry the torch and surpass Carlson's peak. One player that is very promising is an American Grandmaster Christopher Yoo, who is only fifteen. Another young player bursting onto the scene is Iranian-French International Alireza Firouzja, who is a very talented player. Though he is only nineteen he's rated as the fourth best player in the world according to FIDE (International Chess Federation) already having a rating of 2,795. He peaked at 2,800 becoming the youngest ever person to get such a rating beating Carlson's rating by five months.   
So, is it possible for Magnus to reach an Elo of 2,900? Yes, in theory, however, this will be a hard achievement for anyone to accomplish. Part of the problem for Carlson is that the Elo system benefits players with a lower rating. Players with a lower rating are given more points when they win and when the game ends in a draw. Carlsen, however, will lose a point for every draw, and he loses substantially more points than his opponents when he loses. This can be displayed by looking at Carlsen's rating, which has declined by twenty-six points since his peak. As for all competitors, his score always fluctuates. The ratio of his wins is forty-two percent; he draws forty-three percent of the time; and he only loses fifteen percent of his matches. The average GrandMaster draws sixty percent of their games, making it exceptionally harder to keep a rating consistent.
A potential problem that Carlsen is likely to run into is that young players have the ability to study every game he's ever played and be able to analyze areas and openings Magnus is weaker against in seconds with chess AI. Carlsen just lost to his youngest-ever opponent, sixteen-year-old Donnarumma Gukesh, beating him in the Aimchess Rapid recently. The five-time world champion has said that he won't be defending his title at the next world championship, which cuts the number of professional games he'll play this year. Another factor is that the top players only play other top players, adding another bit of difficulty as Carlson will struggle to gain points. Despite all of this, if anyone is going to reach the record-breaking 2,900 soon, it will be Magnus Carlson.