Ripping Double Blacks
     Downhill skiing is one of my favorite pursuits and having the right gear is imperative to skiing your finest. The skiing industry has so many options for skis and other kit needed it can be dizzying to those purchasing for the first time.
     The most important concept when considering what skis to purchase is to analyze the snow you ski because that will determine what snow you will encounter and your height and weight… If you get deep wet snow versus deep dry powder vs East Coast concrete, you will choose an incredibly different ski. The type of snow you ski will determine the width of your skis, while the height and weight will find the length.
     For those who rip wet deep pow, you will want a wider waist width ski 110mm+; however, if you rip deep blower pow, a 115mm+ is ideal. For people consistently shredding groomers, a 100mm or less ski should do the trick. For those who rip a combination of groomers and pow, a middle ground in between 100mm-110 is the standard. A ski shop or the internet can quickly calculate the length of skis you need based on height and weight.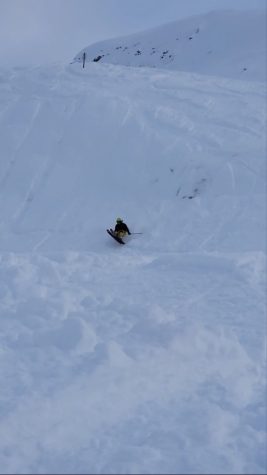 Ski boots and poles are other crucial pieces of kit. Ski boots are typically classified by flex, and the higher the number the more advanced of a skier they are for. Other considerations are if you plan to use them for uphill touring, which means they have an additional mounting system integrated. One of the most important aspects is having comfortable boots, so you can make it through a full day of "sending it" pain-free. 
     Ski poles are not terribly difficult to select because you can either get adjustable poles or fixed-height poles. Another feature to consider is the basket size; the bigger baskets are more useful in powder, and the smaller are better suited for groomers. A quick Google search of a size chart will glean what height or type of poles you need.
Ski bindings are the specialized piece of the puzzle that lash your boots to the skis. They are typically classified by what the maximum DIN (acronym for how much pressure needs to be applied before ski boots pop out the bindings) they can adjust to. More advanced skiers and heavier folks should purchase bindings that go to a higher DIN. Ski bindings can be purchased in some snazzy colors, and the higher the DIN rating typically will increase the cost of the bindings. When buying bindings, make sure they are adjusted to the correct DIN for your ski level.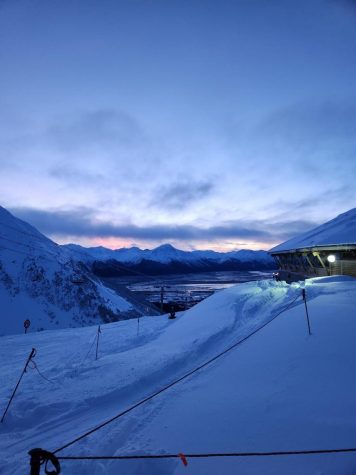 You can purchase any of the gear mentioned new if you have the coin, but used gear in good condition should shred just as well.
     I have been skiing since I was five years old–over a decade now . That said, I have sent it on many sets of skis: from basic rentals, to demo rentals, and in recent years, my own. On a perfect day, you can find me ripping steep and deep pow in the trees with friends or family. My favorite runs are typically double and single black diamonds at my local resort, Alyeska, which boast the longest continuous double black run in North America.