Opinion: Sprint Races are F1's Own Massive Waste of Time
The standard F1 Grand Prix takes place over a single weekend. On Friday, the teams send the cars out for free practice, allowing them to get the cars tuned to the track and get the drivers some lap time. Saturday presents qualifying, where drivers compete for the fastest lap to determine their grid position on Sunday, the day of the Grand Prix. However, the FIA (the governing body of Formula 1) has begun incorporating a fourth element into the weekend: the sprint race, which is set at one-third of the Grand Prix distance.
Why Are Sprint Races a Waste of Time?
Sprint races take away the excitement and importance of the rest of the weekend. A prime example is the current importance of qualifying. Qualifying determines each driver's starting position on the grid for the race. But during a sprint race weekend, qualifying determines their sprint race grid position, and their result from the sprint dictates their Grand Prix starting position. This reduces the importance of qualifying, a beloved F1 tradition, exponentially. For example, at the 2022 São Paulo Grand Prix, Danish driver Kevin Magnussen unexpectedly took pole position during a rainy Saturday. Magnussen drives for midfield team Haas, so his surprise result garnered a huge celebration from the team. Unfortunately for Magnussen, a sprint ensued the very next day, turning his extraordinary P1 into a P8 by the end of the race.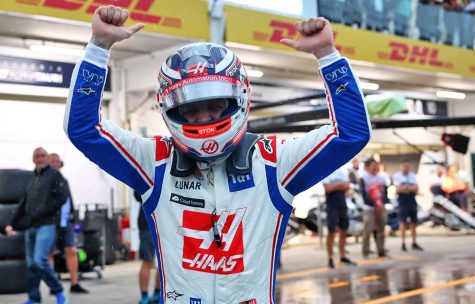 Kevin Magnussen celebrates after an incredible qualifying session
Similarly, we can see that pole position (first place in qualifying) laps slowed after the introduction of sprint races. By reviewing pole laps from the past few Italian Grands Prix, we can see the cars gradually get faster, thanks to advancing technology and relaxed restrictions. However, pole laps slow by around a second (a large margin in F1) after the introduction of sprint races, as teams have less time to get the car adjusted to the track.
Pole Laps of Italian Grands Prix 2017-2022:
2017: 1:35.554, by Lewis Hamilton
2018: 1:19.119, by Kimi Räikkönen
2019: 1:19.307, by Charles Leclerc
2020: 1:18.887, by Lewis Hamilton
2021 (introduction of sprint races): 1:19.555, by Valtteri Bottas
2022: 1:20.161, by Charles Leclerc
Opposition Within the Industry
Distaste of sprint races does not stop at a few angry fans. Two-time world champion and Dutchman Max Verstappen expressed criticism of sprints. "I don't understand what the problem is for that, because we've had so many exciting races, so you don't need to add one-third of a race distance. Everyone is so careful anyway, because if you are fighting for third and you have a little touch and you drop to last, you know your Sunday is going to be tough. Probably you won't risk it, so that's not really a race."
But Verstappen was not the only one to feel this way. "Growing up, always having qualifying and then a race, that's always what I've known Formula 1 to be, so in a way, I'm with Max on that," said fellow driver Lando Norris. "And I love to build up the pressure of just having qualifying and one race with nothing coming between. That's just the structure of it."