The History of Red Bull Racing
A brief history of one of F1's most iconic teams
Red Bull Racing has shown incredible prowess on track since I have been alive, and it is remarkable to see a team exhibit such domination, despite barely being 20 years old. But how did Red Bull rise up to its current prowess?
The Beginning
In 1999, British racecar driver and F1 magnate Sir Jackie Stewart sold his team, Stewart Grand Prix, to the Ford Motor Company, which then re-branded it as Jaguar Racing. Five years later, Jaguar fell upon hard times, and the team was put up for sale. Enter Austrian entrepreneur and co-founder of Red Bull GmbH, Dietrich Mateschitz. Mateschitz purchased the team and immediately rebranded it as Red Bull Racing, signing David Coulthard, Christian Klien, and Vitantonio Liuzzi as drivers. Klien and Liuzzi were meant to sub in for each other every few races; however, Liuzzi made few appearances by the end of the season. Mateschitz also hired a team principal, former F3 driver Christian Horner, who still fills the role today.
2005
Red Bull started their career off strong in 2005, with a P7 in the Constructor's (team's) Championship (totalled by all points scored by all drivers for a team throughout an entire season); respectable for a brand new team. Coulthard wowed both the fans and the team, as he was coming off of a lackluster drive for McLaren the previous two seasons. The team also hired a new technological officer, Adrian Newey, post-season. 
2006
In 2006, changes were made, such as a switch from Cosworth engines (which had been used since the days of Jaguar) to Ferrari engines. Also important this season was the team's first ever podium finish, a P3 by Coulthard in Monaco.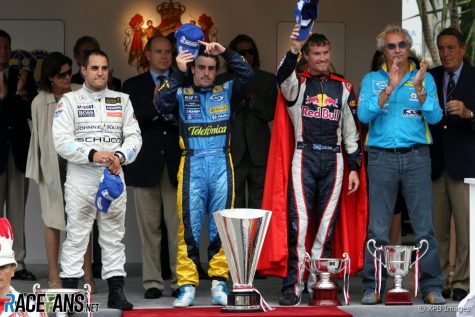 Unfortunately, Christian Klien received the boot near the end of the season and was replaced by Robert Doornbos, who, more or less, performed the same as Klien. 
The biggest change, however, was the founding of a sister team, Scuderia Toro Rosso. The purpose of this second team was to act as a place both for Red Bull to claim first dibs on rookie drivers, and to allow said rookies to get to grips with driving Formula 1 cars. The first drivers for this team were familiar face Vitantonio Liuzzi, as well as a rare American driver, Scott Speed. Austrian Franz Tost was also signed as the Team Principal.
2007
2007 is the season in which Red Bull began ascending to the superior team we know them as today with the first step being the 2007 car, the RB3, which was the first to be designed by Adrian Newey, who today has designed some of the most dominant F1 cars in history, most of them for Red Bull.  Robert Doornbos resigned from the team, and was replaced with Australian talent Mark Webber. Once again, the team changed engines, this time signing a contract with Renault. The preexisting Ferrari contract was not severed, however, and was passed down to Toro Rosso, who up until then had been using Cosworth engines. Both of the previous year's drivers were re-signed to Toro Rosso, yet Scott Speed was abruptly fired following an intense argument with team principal Franz Tost, and replaced by the up-and-coming Sebastian Vettel. By the end of the year, Red Bull finished in 5th in the championship standings, and Toro Rosso finished 7th.
2008
2008 was a mediocre year for the team. A close battle for 4th place in the championship fizzled out as Red Bull lost their grip and fell to 7th. Toro Rosso, on the other hand, had their best year yet. Vettel was re-signed, while Liuzzi was replaced by former Champ Car driver Sébastien Bourdais. Then, during a rainy Italian Grand Prix, Sebastian Vettel crossed the finish line in P1, his first ever win, and the first ever win for either Red Bull-affiliated team.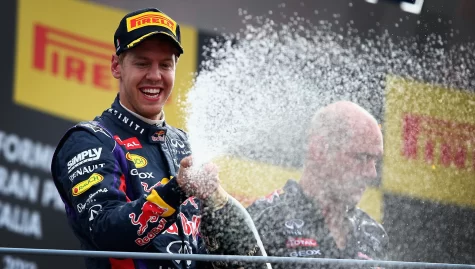 Ironically, this led Toro Rosso, essentially Red Bull's B-team, to finish higher in the championship standings than the main team. Unfortunately, the season later ended on an unfortunate note, as David Coulthard announced his retirement from the sport.
2009
Following the retirement of Coulthard, Vettel was moved up to fill his spot. Sébastian Buemi then took the now-empty seat at Toro Rosso. Sébastien Bourdais was dropped by Toro Rosso after the German Grand Prix, to be replaced by Jaime Alguersuari. Soon after, Vettel took Red Bull's first win at only the third race of the season, the Chinese Grand Prix. He would take home three more wins before the end of the season, finishing second in the driver's championship in his first full year in F1. Mark Webber also took two wins this year, his second and third ever and his first two for the team.
2010
In 2010, both teams kept the previous year's final driver lineup. Toro Rosso had a mediocre year, finishing 9th in the Constructor's, with Buemi and Alguersuari coming in 16th and 19th, respectively. However, Red Bull stole the show, with Mark Webber finishing 3rd and Sebastian Vettel taking his first Driver's World Championship (totalled by all points accumulated by a driver in a season). This was enough to put Red Bull at the top of the scoreboard in the Constructors Championship, earning them their first World Championships in both categories, in the same year.
2011
Red Bull saw near-absolute dominance in 2011, with Vettel and Webber once again coming home in first and third. In this time, Vettel took eleven wins out of nineteen races, almost beating Michael Schumacher's record of thirteen. Vettel also took fifteen pole positions, a record that stands unbeaten to this day. Similarly, it is notable that Vettel finished on the podium in every Grand Prix except one, the Abu Dhabi Grand Prix, which ended with his car's retirement. 
Because of the supremacy exhibited by Red Bull this year, some interesting statistics surfaced. Out of all nineteen races, only three different people took pole positions, being Sebastian Vettel, Mark Webber(3), and Lewis Hamilton(1). There were also only five different race winners: Sebastian Vettel, Jenson Button(3), Lewis Hamilton(3), Mark Webber(1), and Fernando Alonso(1). As for Toro Rosso, they only saw minor improvement over the previous year, with Alguersuari and Buemi finishing 14th and 15th, respectively, and with the team finishing 8th overall. 
In this year, Dietrich Mateschitz also purchased a racetrack in Austria which had hosted F1 Grands Prix from 1970-2003. Previously known as the Österreichring (Austrian track) or A1-Ring, it was renovated, dubbed 'Red Bull Ring' and began hosting non-F1-affiliated races. It would once again host F1 races in 2014, and has ever since.
2012
Once again, Red Bull went into the new season with Vettel and Webber, and once again, won the World Constructor's Championship and World Driver's Championship, thanks to Vettel's 10 podium finishes throughout the year. Webber, on the other hand, finished only in 6th, a commendable effort, but less impressive following the previous two seasons' results. On the other side of the grid, Toro Rosso made lineup changes. Both Alguersuari and Buemi were dropped, to be replaced by Australia's Daniel Ricciardo and France's Jean-Éric Vergne. The duo started off strong, but both fell to the back of the pack by the end of the season.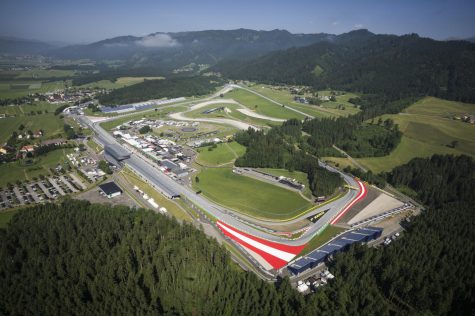 2012
Once again, Red Bull went into the new season with Vettel and Webber, and once again, won the World Constructor's Championship and World Driver's Championship, thanks to Vettel's 10 podium finishes throughout the year. Webber, on the other hand, finished only in 6th, a commendable effort, but less impressive following the previous two seasons' results. On the other side of the grid, Toro Rosso made lineup changes. Both Alguersuari and Buemi were dropped, to be replaced by Australia's Daniel Ricciardo and France's Jean-Éric Vergne. The duo started off strong, but both fell to the back of the pack by the end of the season.
2013
This year marked the first-ever partnership between Red Bull and another corporation, Infiniti. As such, the team was renamed to Infiniti Red Bull Racing, once again starting with Vettel and Webber, as well as Renault engines. Those engines, however, proved to be faulty throughout the season, not just for Red Bull but the other Renault-utilizing teams as well: Williams, Lotus, and Caterham. 
Two races into the season, Vettel sparked controversy by defying direct team orders to not overtake Webber at the Malaysian Grand Prix, which Webber had been leading for most of the race. Despite only being the second race of the season, it would have been Webber's only win. Disregarding the incident, Sebastian Vettel once again worked his way to the top of the scoreboard, taking home a fourth consecutive world championship for both himself and for the team. This event spurred Vettel's now iconic 'Bow to the Bull' celebration at the Indian Grand Prix. 
Mark Webber was also able to make his way back up to 3rd place in his final season in F1, before making a move to the World Endurance Championship. Toro Rosso's season was not as successful, with Ricciardo and Vergne only finishing 14th and 15th.
2014
After the retirement of Mark Webber, Daniel Ricciardo joined Infiniti Red Bull alongside Sebastian Vettel. Former F3 driver Daniil Kvyat then joined Toro Rosso to fill the gap. It had also been decided that Toro Rosso would begin utilizing Renault engines, severing the Ferrari contract. Red Bull had a slightly worse year than average, especially when compared to recent years, with Ricciardo finishing 3rd in the championship and Vettel finishing 5th, marking Vettel's worst year with the team. Overall, Infiniti Red Bull finished 2nd in the Constructor's Championship, ending their four-year reign. Toro Rosso, on the other hand, fared about what you might expect, ending the season in 7th overall, with Jean-Éric Vergne in 13th and with Daniil Kvyat in 18th.
2015
2015 truly marked the end of an era for the team, as Sebastian Vettel signed with Ferrari. Jean-Éric Vergne announced his leaving of Toro Rosso, and Daniil Kvyat was sent up to Red Bull, leaving Toro Rosso completely empty. To deal with this, Toro Rosso hired Max Verstappen, the son of semi-successful 1990s F1 driver Jos Verstappen, and Carlos Sainz, son of 1990/1992 World Rally Champion of the same name. Red Bull finished 4th that year, disappointing after their previous achievements. Toro Rosso's year was the same as usual, but both Verstappen and Sainz Jr. showed potential. By the end of the season, the results…Red Bull, 4th; Toro Rosso, 7th.
2016
In 2016, old contracts were revived and new ones broken across both teams. Red Bull cut ties with Infiniti, bringing back the old Red Bull Racing title, and re-established partnership with Renault, using their engines (which were branded after Swiss watch company TAG Heuer) into the new season. Toro Rosso later picked up its old Ferrari engine contract, which only lasted a year. 
A while into the season, despite clinching Red Bull's first podium of the season at the Chinese Grand Prix, Daniil Kvyat was traded with Toro Rosso's Max Verstappen, who then promptly won his first race with the team, the Spanish Grand Prix, further cementing the replacement. Kvyat, struggling to compete in the slower Toro Rosso car, didn't see a place above 9th for the rest of the season. Nevertheless, the change strongly benefitted the team, finishing 2nd in the year's Constructor's Championship. 
2017
In this season, Toro Rosso had a more interesting year than the main team. As was previously stated, Toro Rosso's engine contract did not last into the 2017 season, with the team rekindling Renault relations, buying their engines under the brand Toro Rosso. Carlos Sainz vastly outperformed teammate Daniil Kvyat, coming in 9th compared to 19th. Super Formula driver Pierre Gasly was set to replace Kvyat for multiple races at the end of the season, but was unable to, as he wanted to finish the Super Formula season. Toro Rosso then brought in New Zealander Brendan Hartley, leaving Kvyat without a seat. Shortly beforehand, however, Carlos Sainz announced a mid-season switch to Renault, allowing Kvyat to keep his job… for one more race, before Gasly returned for good.
2018
Both teams kept their previous year's drivers (Toro Rosso retaining Gasly and Hartley). Red Bull rebranded to Aston Martin Red Bull Racing to match their new title partner, Aston Martin.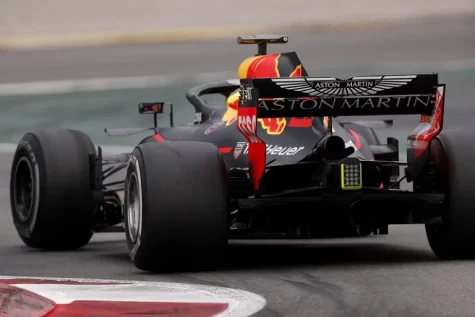 Toro Rosso rebranded too, as Red Bull Toro Rosso Honda, due to a switch to Honda engines. The new engines worked well, helping secure Pierre Gasly a 4th place at only the second race of the season, the Bahrain Grand Prix. In the end, both teams had mediocre seasons by their own standards.
2019
Impressed by their performance in the previous season, Aston Martin Red Bull opted to adopt Honda engines. Unfortunately, Daniel Ricciardo would not be driving with them, as he had moved to Renault for the coming season. This caused Pierre Gasly to be moved up from the B-team, only to be replaced with none other than Daniil Kvyat. Toro Rosso also hired British-Thai driver Alex Albon to replace Brendan Hartley, who had failed to meet the expectations of an F1 driver. Later, due to poor performance, Gasly's seat at Red Bull would be swapped with Albon's.
2020
Toro Rosso underwent massive rebranding in between seasons, becoming known as Scuderia AlphaTauri Honda, to help advertise the Red Bull affiliated fashion company AlphaTauri.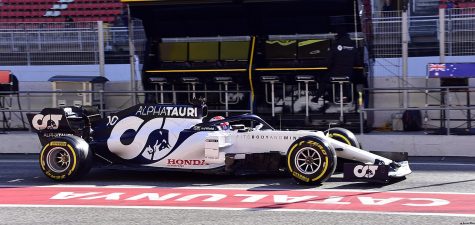 Both drivers that finished the 2019 season were either re-signed or continued to fulfill a contract, both for AlphaTauri and Red Bull.
Due to the coronavirus pandemic, the 2020 F1 season was radically different from the rest. It started in July, rather than March, and featured four fewer Grands Prix than the previous season, despite measures taken to maximize the amount of Grands Prix held. One of these measures was the implementation of back-to-back races at the same track, something not seen before in F1. 
For example, the season debuted at the Red Bull Ring, with the race officially named the Austrian Grand Prix. One week later, a second race was held at the same location, this time called the Styrian Grand Prix. This happened a few more times throughout the season, and led to some interesting racing. Similarly, three different Grands Prix were held in Italy, albeit at different locations. Two of these Grands Prix produced promising results from both teams, with Alex Albon scoring his first F1 podium at the Tuscan Grand Prix, and Pierre Gasly taking his first win at the Italian Grand Prix.
2021
In 2021, Red Bull, now known as Red Bull Racing Honda, demoted Albon to reserve driver, replacing him with Mexican Sergio "Checo" Pérez. Over at AlphaTauri, Kvyat was released, his seat given to the Japanese Yuki Tsunoda. Honda also announced that they would stop supplying engines to F1 teams, prompting Red Bull to run a special livery on their cars at the end of the season, which contained Japanese writing translating to 'thank you.' As usual, AlphaTauri had a lackluster season, but this could not have been further from the truth for Red Bull.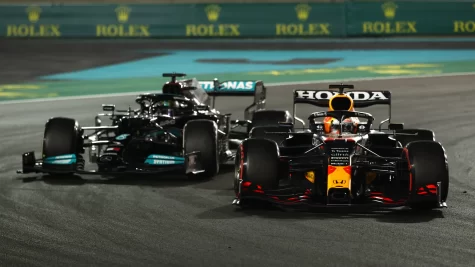 The entire season
was an intense battle between Max Verstappen and rival Lewis Hamilton (driving for Mercedes). Neither driver gained an upper edge until the last race of the season, where the pair had a sensational last-lap battle for the championship, which was then won by Verstappen. Controversy ensued shortly after, as some of the calls made by race officials seemed to favor Red Bull, and accusations of bribery were made. The FIA, the Formula 1 governing body, maintained that Verstappen was the rightful champion; although, as a result of the controversy, F1 Race Director Michael Masi resigned from his position.
2022
In 2022, Red Bull founded a new company to make up for their loss of engine supplier, Red Bull Powertrains (RBPT), ironically in collaboration with Honda. The new engines helped Red Bull (now competing as Oracle Red Bull Racing under software company Oracle) once again dominate, with Verstappen taking his second World Driver's Championship, and Pérez finishing in third. This was despite a dreadful first race, in which both Verstappen and Pérez DNF'd. AlphaTauri also began utilizing the new Red Bull engines, but still suffered on track, garnering criticism from fans for impeding on their driver's talent. It was also discovered this year that Red Bull had exceeded budget limitations and therefore violated F1 Financial Regulation 8.10 'Minor Overspend Breach' in the previous season. This sparked outcry, especially as the FIA was slow to respond to the infringement. However, Red Bull was eventually fined $7 million and given a research and development penalty.
2023
The 2023 season has just started as of recently, but it appears to be going smoothly, with the RBPT engines working wonders and Verstappen and Pérez finishing 1-2 in the debut race. AlphaTauri, however, has been their usual self towards the back of the grid, driving once again with Yuki Tsunoda, and hiring F2 and two-time FE champion Nyck de Vries, who replaced Pierre Gasly after a move to Alpine.