Remembering Craig Breen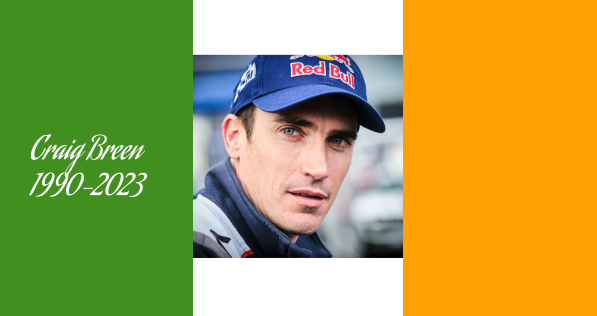 Motorsport is undeniably a dangerous place. Many hundreds of people have been killed and thousands injured since motor racing began over 100 years ago, and the entire community feels the pain of losing a prominent driver or member. As safety in racing began improving around the late 80s-90s, we saw a decrease in serious crashes around the world. Unfortunately, however, accidents happen, and every once in a while, safety systems are not enough to keep a driver alive through the race. This weekend, the motorsport community mourns the loss of Craig Breen.
Craig Breen was born in Ireland in 1990 to Ray and Jackie Breen, the preceding of whom is a former Irish Rally Champion. Breen quickly took to racing, beginning karting at an early age before switching to rallying at age seventeen. Within two years, he was driving in the World Rally Championship, driving a Ford Fiesta ST, which he swapped for a Fiesta R2 near the end of the season. He continued his WRC career for the next fourteen years, but did not just limit himself to one championship. In fact, he competed in six different championships in his lifetime, at one point participating in four at once. Throughout all of this, he won the 2011 Junior World Rally Championship Title, the 2012 Super 2000 World Rally Championship Title, and two Circuit of Ireland wins in front of his home crowd in the European Rally Championship. He had 33 total international rally podiums including 11 wins.
Breen kicked off his 2023 season with a second place at the Rally Sweden for Hyundai WRT, but tragedy struck just two months later ahead of the Croatia Rally. On April 13, Hyundai was conducting tests on the tarmac roads of the course, when Breen, with his co-driver and compatriot James Fulton, collided with a pole. Fulton emerged from the wreckage unscathed, but Breen sadly perished on the scene. He was 33.
Lamentably, Craig Breen's accident resulted in the second motorsport death of the year, following American rally, motocross, skateboarding, and snowboarding icon Ken Block's untimely passing in a snow machining accident in early January. However, Breen stands out, as he was actively actively competing and racing in contrast to the long-since retired Block. Breen's death is also the most notable in motorsport since Anthoine Hubert's in Formula 2 in 2019.
In all, each man made their mark on their respective sports, and it is sure to say that none of them will be forgotten anytime soon.