Compassionate, creative, and caring–three words that best describe 12-year senior Stella Dow. She has been involved in various clubs, sports, and volunteer programs such as Teen Readers, cross-country running, basketball, track, and student council. 
This senior has many options for her future, and she has yet to narrow them down. Fortunately, her older sister Sophie acts as the perfect mentor to guide Stella into adulthood. Stella mentioned, "I'm glad I have an older sister."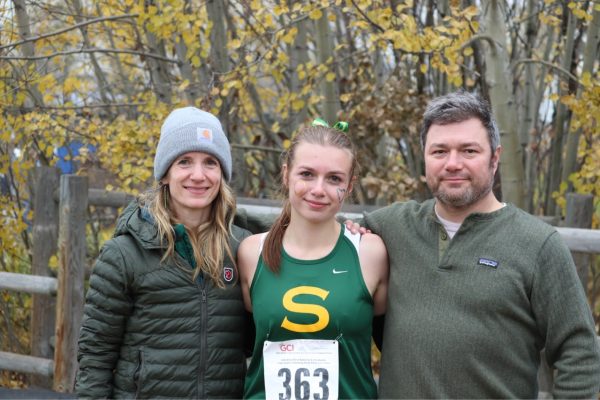 Stella plans to attend college, preferably on the West Coast. She favors climates similar to Alaska, such as Washington and Oregon. However, Stella would also love to live near the beach. Most importantly, she wants to live in a place, "full of beautiful nature." Currently, Stella is unsure of what she wants to study, but luckily she has plenty of time to decide. 
While involved in many extracurricular activities, XC running is one of Stella's favorites. She has been running since elementary school and has been on the XC team all four years of high school. When asked why she finds running pleasing, Stella responded, "Sometimes it's hard to find running enjoyable, but the team is the best; it's like if all of the coolest people at Seward High got together and ran every day." Along with the team, Stella's favorite part of competing is the feeling of crossing the finish line after a difficult race. Over the last four years, Stella has seen significant improvements in her race times. It was hard work and determination that led Stella and her girl's varsity team to a two-time state title. 
While this year is just in its beginning stages, Stella told me, "This year is shaping up to be my best year yet; a lot of exciting stuff has happened and is going to happen." Stella is looking forward to some awesome travel plans and attending her sister's graduation, along with her own, at the end of the year. 
Stella has some great advice for the incoming freshman. First, she would like to encourage them to join the cross-country running team. She says, "Run XC country, it makes everyone think you're cool." She also recommends staying on top of your homework, especially during your freshman and sophomore years. "This makes your life so much easier down the road." 
Good luck Stella, you are amazing!!