Volleyball: A Great Season Concludes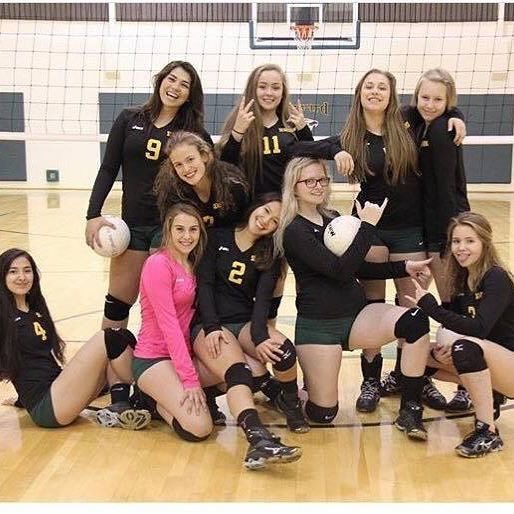 The Seward Seahawk volleyball team has finally ended the past October with a great season, and ranked third in the regional tournament. The Seahawks have been showing a strong team dynamic throughout the first half of the season, losing only to the top competitors Grace Grizzlies and Nikiski Bulldogs, who were ranked numbers one and two, respectively. The team had been more united this year than ever.
I interviewed the team captain, Maille Moriarty, who is senior this year. She has been playing volleyball for five years, one in the middle school, and all four on high school. She had been the captain of varsity throughout high school. The responsibility of being captain is a little tense; the hardest part is not to show her emotions too much. As the captain, a lot of girls tend to look at how she acts, so she tries to be happy because it provides a good role model for the team.
What she most enjoys about volleyball is the team aspect, where you are able to stop when you receive a point and celebrate it with your team. In volleyball, it is important to give thanks and gratitude to the player who got the point, while in basketball the players just run back down the court. "Volleyball is a very strong team building sport," she finally says. "The team was so close, especially this year."
She considered volleyball a difficult sport because you have to be coordinated in order to play at the varsity level. Players must have the ability to use their hands and see where the ball is going to go, especially for setting, which Maille thinks is the hardest position out of all of them. But also she recommends this sport because it's a lot of fun and you can make a lot of friends. "It is a good sport to be involved with."
Many people see her having a future with volleyball, so I asked her about her plans in college. "I am not planning on playing college; maybe if there are some intramurals I may play. But no, competitively not." Her answer surprised me. Apparently, not everything is as we think.
"Can you define what volleyball means for you in few words?" was my last question. "Volleyball means closeness with the team, coaches and friends."
I also interviewed senior Randi Tolson, who also played varsity volleyball. She stated volleyball taught her sportsmanship. Something Maille and Randi said in common is that the sport brings people together, and it's fun and you create bonds with people. Randi would play in college if it did not distract her from succeeding with academics, especially since she is trying to focus on her future.
And last but not least, I bring you to Sequoia Sieverts, a freshman on the varsity team. She started playing this sport in 5th grade — now I understand why she's at that level. What she enjoys the most is learning new skills and perfecting them.
Her first year on varsity, being freshman was, "hard at first," she confesses. "But much more fun than I could ever imagine." She has thought about playing at college in the future, but she doesn't know yet. Maybe if she gets a scholarship. But nothing's for sure.
This year 2017 was a great volleyball season. Although sadly, we said goodbye to three great senior players, Maille Moriarty, Randi Tolson, and Jessi Hood, who have done a lot for the team. We hope to see the other girls return next year!